Innovation In Education Speaker Series: Model D, HuffPost Detroit Ask What's Working And What Isn't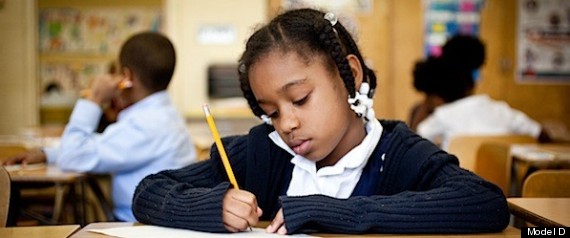 It's back-to-school time in Detroit. It's also a perfect opportunity for all of us to get involved in an issue that will, more than anything, shape the future of our region.
Join Model D and The Huffington Post for an honest, solutions-oriented discussion on how to innovate the way we teach our kids in Detroit and throughout the state.
With so much emphasis on the problems schools face, it's time to highlight what's working, and how those ideas can best be applied on a larger scale. We'll be gathering for the Innovation In Education Speaker Series at one of the best places in the city for kids to hang, YouthVille Detroit, on Wednesday, August 29.
We'll be joined by Sharnita Johnson of the Kellogg Foundation, Michael Brennan of the United Way, Armen Hratchian of Excellent Schools Detroit, Amber Arellano of the Education Trust-Midwest, Michael Khoury, who heads Cristo Rey High School in Southwest Detroit and Stephan Quicksey, a senior at Osborn Academy of Mathematics in Detroit. Kary Moss, Executive Director of ACLU of Michigan, will moderate the panel discussion.
While we've assembled a collection of speakers who are brimming with ideas, experiences and solutions, we also want to hear what you think. Post your questions and thoughts in the comments section, and help shape the conversation during next Wednesday's Speaker Series.
Doors open at 5:30 p.m., program begins at 6 p.m. YouthVille Detroit is located at 7375 Woodward Ave. in Detroit's New Center district. Click here to register in advance.
This Speaker Series is presented by Model D, The Huffington Post, Urban Innovation Exchange and Michigan Nightlight, with support from MSHDA, W.K. Kellogg Foundation, John S. and James L. Knight Foundation and ACLU of Michigan.
Also on HuffPost:
Loading Slideshow
School Supplies

<strong>91 percent</strong> of teachers buy basic school supplies for their students.

Food

<strong>2 in 3</strong> teachers <strong>(67%)</strong> purchase food or snacks to satisfy the basic nutritional needs of their students -- even ones who are already enrolled in their schools' free or reduced-price meal program.

Clothing

<strong>1 in 3</strong> teachers purchase clothing for children, including jackets, hats and gloves <strong>(30%)</strong> or shoes and shoe laces <strong>(15%)</strong>.

Toothbrushes

<strong>18 percent</strong> of teachers purchase personal care items, such as toothbrushes and sanitary products.

Hygiene Products

Nearly <strong>1 in 3</strong> teachers <strong>(29%)</strong> purchase items such as toilet paper and soap that their school cannot provide enough of due to budget cuts.

Field Trips

<strong>More than half</strong> of all teachers have paid the costs of field trips for students who couldn't afford to participate otherwise.

Alarm Clocks

<strong>Several teachers</strong> reported purchasing alarm clocks for students. Due to work schedules or family circumstances, guardians were unable to wake their children for school, which led to absences and academic underperformance.