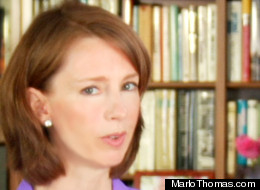 Can you really choose to be happy? When Gretchen Rubin, author of "The Happiness Project" and "Happier at Home" joined me on Mondays With Marlo, she spoke about things in our lives that we can and cannot control, and how they affect our happiness.
For more fantastic advice on lifting your mood, see Gretchen Rubin's tips on happiness:
Tips On Happiness From Gretchen Rubin
If you feel like you want to change your routine and others are unwilling to help, figure out what you can change without their cooperation.

Every time someone comes or goes, give them a proper greeting and a proper farewell. Give family members a kiss in the morning and a kiss goodnight. These acknowledgements of someone's presence will make you and those around you happier.

Suffer for 15 minutes: Force yourself to work on a project that's intimidating for 15 minutes each day. This will eliminate your sense of dread, and help you regain momentum and control.

A year from now, if something changed in your life, what would you want it to be? Find out what this thing is, and throw your energy into making it happen.

When dealing with someone who is upset, imagine that you're observing the person like a reporter, or as a character in a play, so you get a sense of detachment. Some people don't want to be cheered up. They're not your responsibility. Treat others with kindness and consideration, but don't try to change their moods dramatically if they are unresponsive when you console them.

Exercise! Even a 15 or 20 minute walk outside in the sunlight really gives you a big boost of energy and cheer.

Instead of aiming to achieve total happiness right away, make short term goals. The road to happiness will feel much more manageable if you take small steps towards your goal.

Make the best of your current circumstances. Then, give yourself the emotional wherewithal to meet a challenging situation.

Just don't bring it up. Don't do it yourself, but mention it one time, and then don't do it. Let it go undone. They'll eventually do it.

Getting enough sleep is crucial to improving your mood. Most people need at least seven hours, so make sure to get enough shut-eye.

When someone asks, "Can you do me a favor?," say "Sure," instead of saying "What is it?" Kissing, touching and giving someone a heartfelt "Hello" are other ways of showing your appreciation.

Do something you love. If you're doing work that you don't feel is right for you, you'll measure your success on what other people think. If you're doing work that you love, then the work itself is its own reward.

Home is really the foundation of our happiness -- it's marriage, time, parenthood, possessions, physical space and neighborhood. You want to be in a place that's comforting, but also energizing and fills you with a zest for life.

We tend to overestimate what we can do in an afternoon and underestimate what we can do over the long term. You should do a little bit consistently. Resolve to wake up slightly earlier in the morning to work on a special project, or cut out one unhealthy thing you eat each day.

Little chores can build up, so beat procrastination and follow the one minute rule. Anything you can do in less than one minute, do without delay.

Self-knowledge and strong relationships with other people form a strong basis for a happy life.

Every night before bed, do a twenty minute tidy-up. This is one way to slowly stay on top of household chores.

If you really think to yourself, "Am I happy?" and "How could I be happier?," you'll start seeing opportunities to make little changes in your life. Just thinking about what will make you happier can really make a difference.

Make your bed -- literally. In doing so, you're getting something done, no matter how minor it is. Once the bed is made, your room will look much more orderly, inviting and peaceful.

Take pleasure in the moment, but also think about the future and the implications of your actions for the future. If you only live in the present, you probably aren't going to make decisions that make you happy in the long run.
Add Marlo On Facebook:
Follow Marlo on Twitter:

Weekly Newsletter

Sign up to receive my email newsletter each week - It will keep you up-to-date on upcoming articles, Mondays with Marlo guests, videos, and more!

Sign up here