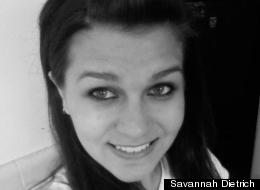 Savannah Dietrich, a 17-year-old girl from Kentucky who was sexually assaulted, was incensed when a judge gave her two confessed attackers what she considered to be a light sentence.
Dietrich took to social media to rail against the two men, whom she claims were "slapped on the wrist," even though she was ordered by the court not to discuss details of the case, including the names of her attackers.
Soon after, a lawyer for one of the boys went so far to say that Dietrich had ruined his client's life by calling him out as a rapist.
Now, a Kentucky newspaper that has been fighting in juvenile court to open files in the Dietrich case has filed a supplemental memorandum based on a Huffington Post article.
The Courier-Journal, a media outlet based in Louisville, filed the memorandum on Wednesday, one day after comments made to HuffPost by attorney David Mejia were published.
Mejia represented one of the teenage boys who confessed to felony sexual abuse and misdemeanor voyeurism in connection with Dietrich's 2011 sexual assault. Mejia discussed several aspects of the case in a phone interview with HuffPost Tuesday. Those comments are outlined in the supplemental memorandum. The Aug. 21 HuffPost article has also been entered into evidence.
The Courier-Journal has been trying to get the court to open the case files so that Dietrich and anyone else involved in the case can discuss specific details that are currently kept confidential by juvenile court rules.
The original motion filed by the newspaper argued that "serious questions have been raised in this case about how the system has been used to protect, perhaps inappropriately, the two defendants who have admitted to abusing Ms. Dietrich, while at the same time unconstitutionally depriving Ms. Dietrich of her First Amendment rights to free speech."
According to the motion, Mejia appeared in court on Aug. 21 and "vehemently argued against the Courier-Journal's motion by repeatedly stating that he and his client have deliberately avoided making public statements about the facts of this case."
Mejia did not respond to a request for comment from HuffPost.
PHOTOS: (Story Continues Below)
Dietrich has a public Facebook page where she posts updates. View them here.

Those lawyers filed a contempt motion against Dietrich in July, 2012, after she tweeted the names of the boys.

The lawyers for Dietrich's attackers say that they're "devastated," had to move and got kicked out of school after she named them.

Savannah Dietrich, the Kentucky teenager who faced a contempt charge for naming her sexual abusers, has a public Facebook page where she posts updates. View them here.

"If reporting a rape only got me to the point that I'm not allowed to talk about it, then I regret it," Dietrich wrote on Facebook. "I regret reporting it."

Dietrich's attorney, Emily Farrar-Crockett, said she was unsympathetic to the boys' lawyer's complaints that she had no regard for their privacy.

"They took the pictures, they disseminated it, they told people about what they had done. To come back and blame her now for ruining their reputation I think is despicable. They did this to themselves," Farrar-Crockett said.
The attorney for the Courier-Journal, Jon Fleischaker, said Mejia's interview with The Huffington Post is in opposition to what he had said earlier in court.
"It seems to be a contradictory position," Fleischaker told HuffPost. "His position [was] about trying to keep everything closed and he then goes public and talks about it."
Dietrich's attorney, Thomas Clay, agreed.
"[This] is called holding and hitting because Mr. Mejia is fighting as hard as he can to keep his clients' records secret on one hand but on the other hand he's willing to make defamatory statements about Savannah Dietrich, which if we had an opportunity for the public to scrutinize that record they might reach a different conclusion," Clay said.
A judge will make a ruling by Aug. 28 on whether to release the private juvenile court records.
READ THE MOTION:
Savannah Dietrich Supplemental Memorandum