'30 Rock' Final Season: Tina Fey, Jane Krakowski In Behind-The-Scenes Photo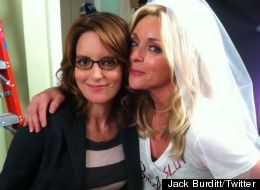 It looks like Jenna Maroney's wedding is in full swing when the final season of "30 Rock" kicks off.
Series executive producer Jack Burditt tweeted the first photo from the first day of shooting. In the photo, Tina Fey is decked out in her finest Liz Lemon plaid and Jane Krakowski is wearing a "bride" t-shirt with the word "slut" scrawled on it. Could this be her bachelorette party?
"30 Rock" kicks off its final season on Thurs., Oct. 4 at 8 p.m. ET.
First day of shooting fun-ness. #30Rock twitter.com/jackburditt/st…

— Jack Burditt (@jackburditt) August 24, 2012
Tracy Morgan as Tracy Jordan, Jane Krakowski as Jenna Maroney

Jack McBrayer as Kenneth Parcell

Tracy Morgan as Tracy Jordan, Jane Krakowski as Jenna Maroney

Tina Fey as Liz Lemon

Tina Fey as Liz Lemon, Tracy Morgan as Tracy Jordan

Tina Fey as Liz Lemon, Grizz Chapman as Grizz, Kevin Brown as Dotcom

Sue Galloway as Sue, Katrina Bowden as Cerie, Judah Friedlander as Frank, Keith Powell as Toofer

Judah Friedlander as Frank, Keith Powell as Toofer

Scott Adsit as Pete, Tina Fey as Liz Lemon

Jane Krakowski as Jenna Maroney

Jane Krakowski as Jenna Maroney

Sue Galloway as Sue, Katrina Bowden as Cerie, Judah Friedlander as Frank, Keith Powell as Toofer

Alec Baldwin as Jack Donaghy

Tina Fey as Liz Lemon, James Marsden as Criss

Tina Fey as Liz Lemon, James Marsden as Criss

Tina Fey as Liz Lemon

Alec Baldwin as Jack Donaghy

Alec Baldwin as Jack Donaghy

Jane Krakowski as Jenna Maroney

Ice-T as himself, Richard Belzer as himself, Jane Krakowski as Jenna Maroney

Ice-T as himself, Richard Belzer as himself, Jane Krakowski as Jenna Maroney

Jack McBrayer as Kenneth Parcell

Tina Fey as Liz Lemon, Jane Krakowski as Jenna Maroney

Tina Fey as Liz Lemon

John Lutz as Lutz, Judah Friedlander as Frank

Katrina Bowden as Cerie, Tina Fey as Liz Lemon, Keith Powell as Toofer

Katrina Bowden as Cerie, Judah Friedlander as Frank

Julianne Moore as Nancy, Alec Baldwin as Jack Donaghy

Julianne Moore as Nancy, Alec Baldwin as Jack Donagy

Alec Baldwin as Jack Donaghy

Alec Baldwin as Jack Donaghy, Jim Downey as Downey

Tina Fey as Liz Lemon

Alec Baldwin as Jack Donaghy, Jim Downey as Downey

Dante Hoagland as Terry, Tina Fey as Liz Lemon, Marina Bond as Janet

Dante Hoagland as Terry, Tina Fey as Liz Lemon, Marina Bond as Janet, James Marsden as Criss

Tina Fey as Liz Lemon, James Marsden as Criss Chross

Tina Fey as Liz Lemon, James Marsden as Criss Chross

Dante Hoagland as Terry and Marina Bond as Janet

Jack McBrayer as Kenneth

Tracy Morgan as Tracy Jordan, Jane Krakowski as Jenna Maroney.

Tina Fey as Liz Lemon.

Tracy Morgan as Tracy Jordan and Jane Krakowski as Jenna Maroney.

Tracy Morgan as Tracy Jordan, Jane Krakowski as Jenna Maroney and Tina Fey as Liz Lemon.

Elaine Stritch as Colleen Donaghy, Alec Baldwin as Jack Donaghy

Tina Fey as Liz Lemon, Andrea Martin as Bonnie

Jack McBrayer as Kenneth Parcell, Tracy Morgan as Tracy Jordan

Tina Fey as Liz Lemon, Alec Baldwin as Jack Donaghy

Alec Baldwin as Jack Donaghy, Steve Whitmire as Kermit

Elaine Stritch as Colleen Donaghy

Tina Fey as Liz Lemon, Alec Baldwin as Jack Donaghy

Alec Baldwin as jack Donaghy, Elaine Stritch as Colleen Donaghy

Chris Parnell as Dr. Leo Spaceman

Florence Henderson as herself, Tracy Morgan as Tracy Jordan, Jack McBrayer as Kenneth Parcell

Tina Fey as Liz Lemon, James Marsden as Criss.

Tina Fey as Liz Lemon, James Marsden as Criss

James Marsden as Criss.

John Hodgman as Terry, Jane Krakowski as Jenna Maroney.

Judah Friedlander as Frank.

Melissa McMeekin as Megan, Dean Winters as Dennis.

Jane Krakowski as Jenna Maroney

Jane Krakowski as Jenna Maroney

John Lutz as Lutz, Keith Powell as Toofer, Judah Friedlander as Frank Rossitano, Jane Krakowski as Jenna Maroney

Katrina Bowden as Cerie, Judah Friedlander as Frank Rossitano, John Lutz as Lutz, Keith Powell as Toofer, Jane Krakowski as Jenna Maroney

Tina Fey as Liz Lemon, Alec Baldwin as Jack Donaghy

Tina Fey as Liz Lemon

Alec Baldwin as Jack Donaghy

Kellan Lutz as himself

Kellan Lutz as himself

Tina Fey as Liz Lemon

Tina Fey as Liz Lemon

Tina Fey as Liz Lemon, Gary Cole as Roger

Gary Cole as Roger, Amy Sedaris as Visor Lady

Amy Sedaris as Visor Lady

Tina Fey, Alec Baldwin

Nina Arianda as Zarina, Alec Baldwin as Jack Donaghy

Tina Fey as Liz Lemon

Tina Fey as Liz Lemon

Nina Arianda as Zarina, Ryan Lochte as himself

Nina Arianda as Zarina, Ryan Lochte as himself

Laura McDonald as Mindy, Ryan Lochte as himself

Laura McDonald as Mindy, Ryan Lochte as himself.

Alec Baldwin as Jack Donaghy, Amanda Bilger as Cigar Lady.

Brett Helsham as Sporty Girlfriend, Alec Baldwin as Jack Donaghy

Ryan Lochte

Tyler Evans as Wall Street Guy, Alec Baldwin as Jack Donaghy, Ryan Lochte as himself, Eric Gurian as Hair Guy.

Ryan Lochte as himself, Tyler Evans as Wall Street Guy, Jacob Ming Trent as Nerd

Jane Krakowski, Tina Fey

Tina Fey, Alec Baldwin.

Tina Fey

Jane Krakowski, Tina Fey.

Tina Fey

Tina Fey, Alec Baldwin

Tina Fey, Alec Baldwin

30 ROCK -- "Live from Studio 6H" Episode 619 -- Pictured: (l-r) Tina Fey as Liz Lemon, Alec Baldwin as Jack Donaghy -- (Photo by: Dana Edelson/NBC)

30 ROCK -- "Live from Studio 6H" Episode 619 -- Pictured: Cheyenne Jackson -- (Photo by: Dana Edelson/NBC)

30 ROCK -- "Live from Studio 6H" Episode 619 -- Pictured: (l-r) Jimmy Fallon, Fred Armisen -- (Photo by: Dana Edelson/NBC)

30 ROCK -- "Live from Studio 6H" Episode 619 -- Pictured: Donald Glover as Young Tracy -- (Photo by: Dana Edelson/NBC)

30 ROCK -- "Live from Studio 6H" Episode 619 -- Pictured: (l-r) Jon Hamm, Tracy Morgan -- (Photo by: Dana Edelson/NBC)

30 ROCK -- "Live from Studio 6H" Episode 619 -- Pictured: (l-r) Cheyenne Jackson as Danny, Jane Krakowski as Jenna Maroney -- (Photo by: Dana Edelson/NBC)

30 ROCK -- "Live from Studio 6H" Episode 619 -- Pictured: (l-r) Jack McBrayer as Kenneth Parcell, Paul McCartney, Tina Fey as Liz Lemon, Alec Baldwin as Jack Donaghy -- (Photo by: Dana Edelson/NBC)

30 ROCK -- "Live from Studio 6H" Episode 619 -- Pictured: (l-r) Tina Fey as Liz Lemon, Alec Baldwin as Jack Donaghy, Scott Adsit as Pete Hornberger -- (Photo by: Dana Edelson/NBC)

30 ROCK -- "Live from Studio 6H" Episode 619 -- Pictured: (l-r) Jon Hamm, Alec Baldwin -- (Photo by: Dana Edelson/NBC)

30 ROCK -- "Live from Studio 6H" Episode 619 -- Pictured: (l-r) Tracy Morgan, Scott Adsit, John Lutz, Judah Friedlander -- (Photo by: Dana Edelson/NBC)

30 ROCK -- "Live from Studio 6H" Episode 619 -- Pictured: (l-r) Will Forte as Paul, Jane Krakowski as Jenna Maroney -- (Photo by: Dana Edelson/NBC)

30 ROCK -- "Live from Studio 6H" Episode 619 -- Pictured: (l-r) Jane Krakowski, Alec Baldwin -- (Photo by: Dana Edelson/NBC)

30 ROCK -- "Live from Studio 6H" Episode 619 -- Pictured: Alec Baldwin -- (Photo by: Dana Edelson/NBC)

30 ROCK -- "Live from Studio 6H" Episode 619 -- Pictured: (l-r) Judah Friedlander as Frank Rossitano, Sue Galloway as Sue, Jack McBrayer as Kenneth Parcell, Scott Adsit as Pete Hornberger, Tina Fey as Liz Lemon, Grizz Chapman as Grizz, Katrina Bowden as Cerie, Kevin Brown as Dotcom, John Lutz as Lutz, Alec Baldwin as Jack Donaghy -- (Photo by: Dana Edelson/NBC)

30 ROCK -- "Live from Studio 6H" Episode 619 -- Pictured: (l-r) Tina Fey, Alec Baldwin -- (Photo by: Dana Edelson/NBC)

30 ROCK -- "Live from Studio 6H" Episode 619 -- Pictured: (l-r) Tina Fey as Liz Lemon, Kristen Schaal as Hazel -- (Photo by: Dana Edelson/NBC)

30 ROCK -- "Live from Studio 6H" Episode 619 -- Pictured: Chris Parnell as Dr. Spacemann -- (Photo by: Dana Edelson/NBC)

30 ROCK -- "Live from Studio 6H" Episode 619 -- Pictured: (l-r) Jimmy Fallon, Fred Armisen, Amy Poehler as Teenage Liz Lemon -- (Photo by: Dana Edelson/NBC)

30 ROCK -- "Live from Studio 6H" Episode 619 -- Pictured: (l-r) Tracy Morgan as Tracy Jordan, Jane Krakowski as Jenna Maroney, Will Forte as Paul -- (Photo by: Dana Edelson/NBC)

30 ROCK -- "Live from Studio 6H" Episode 619 -- Pictured: (l-r) Tracy Morgan as Tracy Jordan, Jane Krakowski as Jenna Maroney, Will Forte as Paul -- (Photo by: Dana Edelson/NBC)

30 ROCK -- "Live from Studio 6H" Episode 619 -- Pictured: (l-r) Tracy Morgan as Tracy Jordan, Kristen Schaal as Hazel, Jane Krakowski as Jenna Maroney, Will Forte as Paul -- (Photo by: Dana Edelson/NBC)

30 ROCK -- "Live from Studio 6H" Episode 619 -- Pictured: (l-r) Katrina Bowden, Donald Glover, Grizz Chapman, Jimmy Fallon, Sue Galloway, Cheyenne Jackson, Amy Poehler, Keith Powell, Tracy Morgan, John Lutz, Jack McBrayer, Tina Fey, Paul McCarney, Jon Hamm, Scott Adsit, Alec Baldwin, Will Forte, Jane Krakowski, Judah Friedlander, Kristen Schaal, Fred Armisen, Chris Parnell -- (Photo by: Dana Edelson/NBC)