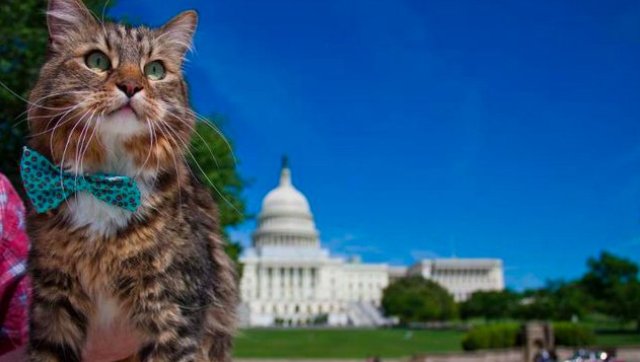 "I'm not a dog owner anymore," Gray admitted in remarks at the ceremony. "I used to have two dogs. They now have gone on. But I do have a cat, and we have no cat parks...yet."
Austermuhle sounds dubious:
[E]very now and then I see a cat-owner towing around their feline friend on a leash. The cats rarely look happy to be outside, much less being walked around on a leash.
In short: Cat parks, not the Mayor's worst (facetious) idea?
Let's revisit Old Town Alexandria's Harold the cat and his people, Sarah Howell and her husband Jeff Jones:
RELATED ON HUFFPOST: JAPAN'S KITTY CAFES OFFER A UNIQUE WAY TO RELAX AFTER WORK FOR CAT LOVERS.
SUBSCRIBE TO & FOLLOW THE MORNING EMAIL
The Morning Email helps you start your workday with everything you need to know: breaking news, entertainment and a dash of fun. Learn more