Empire State Building Shooting: Networks Switch To Rolling Coverage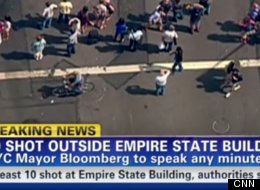 Once again this summer, the media went into rolling coverage of a deadly shooting on a Friday morning.
This time, the shooting took place just outside the Empire State Building in New York, the epicenter of the media world. Unlike the tragedy in Aurora, CO, national reporters were able to go very swiftly to the scene.
All three cable news networks joined the local New York stations, providing wall-to-wall coverage of the shootings. According to TVNewser, Fox News was the first cable network to switch to the story, followed in short order by MSNBC and CNN. The networks were forced to put their reporters on the phone while they scurried to set up cameras at the scene.
NBC News broke in with a special report at 10 AM ET, anchored by "Today" hosts Matt Lauer and Savannah Guthrie. The New York stations did not carry that report, choosing to stick with their local newscasts.
"CBS This Morning" also went live for its West Coast audience with updates on the shootings.