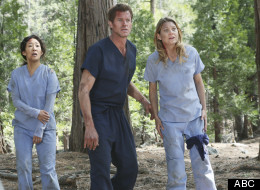 "Grey's Anatomy" Season 8 ended with that horrific plane crash that kille Lexie Grey, but its ramifications are still being felt in Season 9. In a new promo for "Grey's Anatomy" Season 9, ABC teases the big question: "Who will survive?"
Viewers already said goodbye to Lexie (Chyler Leigh) and know Teddy Altman (Kim Raver) is leaving Seattle Grace. But those aren't the only "Grey's Anatomy" exits. Spoilerphobes, beware.
In July 2012, Eric Dane announced he was leaving the series. "I am extremely grateful to everyone at 'Grey's,' ABC and Shondaland for the experience and memories I have had over the course of this run," he said. Is Mark Sloane heading for the great beyond? Patrick Dempsey tweeted photos from the set that seemed to support that assumption, but ABC had the star remove the photos.


"Grey's Anatomy" returns Thurs., Sept. 27 at 9 p.m. ET.