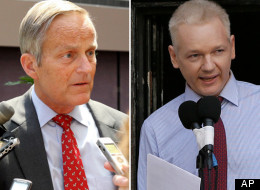 That's what President Barack Obama said in response to the "legitimate rape" comment that landed Rep. Todd Akin (R-Mo.) in hot water this week.
On Sunday, Akin, who is running for Senate in Missouri, tried to justify his extreme anti-abortion stance by arguing during an interview with KTVI-TV that "legitimate rape" does not cause pregnancy.
The following day, conservative talk show host Bryan Fischer of the American Family Association expressed his "absolute" support of Akin's view, saying trauma from a "real, genuine rape, a case of forcible rape" would make it "difficult" for a woman to conceive a child.
Despite Fischer's support, Akin -- amid an onslaught of criticism -- soon apologized and retracted his comment.
Akin, however, is not the only politician who has come under fire recently for qualifying (and some say, "minimizing") the definition of the word "rape."
On the other side of the Atlantic, British Member of Parliament George Galloway sparked outrage this week with his comments on the Julian Assange sexual assault case.
Assange is currently residing in the Ecuadorian embassy in London, where he has been granted political asylum. The WikiLeaks founder is making a desperate attempt to avoid being sent from England to Sweden, where he is wanted for questioning on suspicion of rape, unlawful coercion and two cases of sexual molestation.
The allegations were made by two women whom Assange met in Sweden in August 2010. One of the women claims she was asleep and unconscious when Assange allegedly raped her. The other woman claims that she had consented to sex with Assange if a condom was used. However, she alleges that Assange both sexually molested her and committed "unlawful coercion" by having sex with her without a condom.
In a video podcast on Monday, Galloway
claimed that the allegations against Assange "don't constitute rape," but could instead be seen as "bad sexual etiquette."
Not everybody needs to be asked prior to each insertion. Some people believe that when you go to bed with somebody, take off your clothes, and have sex with them and then fall asleep, you're already in the sex game with them. It might be really bad manners not to have tapped her on the shoulder and said, 'Do you mind if I do it again?' It might be really sordid and bad sexual etiquette, but whatever else it is, it is not rape or you bankrupt the term rape of all meaning.
Galloway's comments and Assange's alleged sex crimes have "ignited bitter arguments in Britain over perceptions of rape," according to Reuters.
While some of Assange's supporters have claimed the allegations do not constitute rape under English law, others say that the political issues surrounding his case should not be used to diminish the severity of the accusations against him.
"[This controversy around the Julian Assange case] is conflating issues around freedom of speech with debates about what constitutes violence against women. Let me be clear, as a politician and as a woman. Rape occurs when a woman has not consented to sex. George Galloway's comments on what constitutes rape are deeply disappointing and wrong," British politician Salma Yaqoob, who is the leader of Galloway's political party, wrote on her website.
In an opinion piece on Akin and Galloway, journalist Louise Mensch of Australia's Canberra Times compared the two politicians' comments.
"On both sides of the Atlantic, from the left and the right, male politicians and two-bit 'public figures' have made common cause on rape. Not to condemn it, or to pledge tougher action in policing it; but to minimize and dismiss it as a crime," she wrote.
"Akin makes Galloway's point; that there is true rape and something less," she added.
What Mensch failed to mention, however, is that the legal definition of rape is not always the same around the world -- a difference that can often cause confusion when these conversations arise.
In Sweden, for example, there are three categories of rape -- gross, ordinary and minor (Assange is being charged with minor, or third-degree, rape) -- and in the United States, where there is no national rape law, there are some states that require evidence of "forcible compulsion" before it can be called rape.
In fact, when commenting on the Assange case this week, Ecuadorian President Rafael Correa told reporters that allegations against the WikiLeaks founder "would not, in any case, be considered a felony in Latin American [sic]."
So, even though Obama was right in saying that "rape is rape," it is still useful to note the legal nuances and definitions between U.S. states and countries around the world.
To learn more about rape laws in the U.S., England and Wales, Sweden and Canada, click through this slideshow:
The legal definition of rape varies from country to country -- and in the U.S., from state to state. The United Nations defines rape as "sexual intercourse without valid consent," and the World Health Organization has defined it as "physically forced or otherwise coerced penetration -- even if slight -- of the vulva or anus, using a penis, other body parts or an object."

There is no national rape law in the U.S., and every state has its own statutes. Nonetheless, earlier this year, U.S. officials expanded the definition of rape to include men as well as women. The new definition also included any victim who is unable to give consent or who is violated with an object. According to Reuters, the new definition is: "The penetration, no matter how slight, of the vagina or anus with any body part or object, or oral penetration by a sex organ of another person, without the consent of the victim." The perpetrator can be both male or female. Marital rape is also illegal (North Carolina became the last state to outlaw spousal rape in 1993.)

According to the 2003 Sexual Offences Act, a defendant is guilty of rape if "he intentionally penetrates the vagina, anus or mouth of another person with his penis," the complainant "does not consent" and the defendant does not "reasonably believe" that consent has been given. A separate offence of sexual assault by penetration, which carries the same maximum sentence, covers sexual attacks involving other objects. Though the act uses the term "he" and defines rape as involving penetration by a penis, women who facilitate gang rapes can be -- and have been -- prosecuted for rape, according to the BBC. Exemption for marital rape was abolished in 1991. (This photo shows a pro-Julian Assange placard outside the Embassy of Ecuador, in central London.)

Rape in Sweden is defined as the forcing of another person to have sexual intercourse or endure another sexual act using violence. If the defendant (who can be male or female) "improperly" exploits the complainant to have sexual intercourse (or other sexual act) -- due to "unconsciousness, sleep, intoxication or other drug influence, illness, physical injury or mental disturbance, or otherwise in view of the circumstances in general, is in a helpless state" -- it is legally also considered rape. Sweden was one of the first countries in Europe to outlaw marital rape.

The word "rape" is not used in the Canadian Criminal Code. Instead, the law criminalizes "sexual assault." In defining "assault," the Code includes physical contact and threats. Sexual assault is defined as sexual contact with another person without that other person's consent. Sexual assault between spouses is not exempt from the law -- and both men and women can be charged with sexual assault.

According to the Rape, Abuse & Incest National Network (RAINN), there are three questions that must be asked to determine if a person has given "consent" to sexual intercourse or a sexual act. Firstly, are the participants old enough to consent? In the United States, each state has a different "age of consent." However, in most states, the age of consent is either 16 or 18. Secondly, do both people have the mental and legal capacity to consent? Those with "diminished capacity" -- for example, some people with disabilities, some elderly people and people who have been drugged or are unconscious -- may not have the "legal ability to agree to have sex." Thirdly, did both participants agree to take part? In other words, was physical force or threat used?

"The main difference between states is whether "forcible compulsion" is required to show rape has taken place. Eight states require evidence of victim resistance, six others use similar terminology, and resistance is relevant to definitions of force and consent in another 16. Some states do not distinguish between submission and genuine consent. The question for courts is whether the defendant could reasonably assume the victim has consented." -- BBC (In this photo, Todd Akin, Republican nominee for the Missouri U.S. Senate seat, is seen speaking to reporters. Akin has come under fire for using the term "legitimate rape.")

It is considered consent if someone "agrees by choice, and has the freedom and capacity to make that choice."

Consent is determined by whether "unlawful coercion" or threat of force was used. Coercion is not limited to physical force -- if the victim is considered "helpless," it can still be considered rape.

Consent is defined as "the voluntary agreement of the complainant to engage in the sexual activity in question." According to the law, a person cannot freely consent to sexual activity if they are drunk, under the influence of drugs, unconscious or asleep.

In the U.S. and the U.K., the maximum sentence for rape is life imprisonment. In Sweden, the sentence will depend on the category of rape, which in turn depends on the level of violence and other factors. For "gross rape," the punishment is 4-10 years imprisonment; for "ordinary rape," it is 2-4 years; and for "minor rape" (in which almost no violence or threat is used, but the complainant is asleep or unconscious), the prison sentence can range from 0-4 years. In Canada, a "level three sexual assault" (which results in the "wounding, maiming, or disfiguring or endangering the life of the victim") is punishable by a maximum penalty of life in prison.