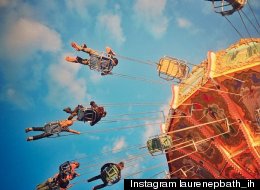 Despite the collective "ugh" that blogs like Rich Kids of Instagram elicit and the advent of apps like Normalize which strip away photo filters, the popularity of Instagram shows no signs of waning. Here at HuffPost Women, we've fallen down the beautiful rabbit hole and are definitely in no rush to get out. We're officially hooked -- so much so that we've even created our own account!
Yes, Instagram often shows only the prettiest, shiniest, most faux-1970s parts of our lives, but it also gives us a window into those fun parts of other people's lives. Plus, there are some incredible photographers whose work is now just a few finger taps away. We've gathered a list of 23 women whose Instagram feeds we absolutely adore. Tell us who you love following in the comments!
LOOK: 23 Women You Should Be Following On Instagram
Women To Follow On Instagram
San Francisco-based photographer.

Blogger.

New Yorker working at Random House Publishing.

Australian photographer, @PirieBathPhotography.

Blogger, The Man Repeller.

Actress, voice of "Marcel the Shell."

TV personality, author.

Editor at HelloGiggles.

Actress, screenwriter.

Blogger.

TV personalities, viral video stars.

Actress. Tweets/Instagrams often include husband, Jason Biggs.

Blogger, daughter of Judd Apatow and Leslie Mann.

Editor-In-Chief, Rookie Mag.

Dancer, founder of Ballet Beautiful.

Actress, co-founder HelloGiggles.

Director, performer, and creative director of The Citizens Band.

Actress, writer, producer.

Freelance writer, founding editor of Jezebel.

Actress.

Blogger.

Actress, writer, producer.