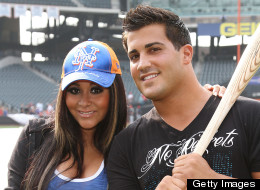 It's official: Snooki is a mom!
"Jersey Shore" star Nicole "Snooki" Polizzi and her fiance, Jionni LaValle, welcomed a baby boy, Lorenzo Dominic LaValle, in the early hours of Sunday morning at Saint Barnabas Medical Center in Livingston, N.J., MTV reports.
"Nicole, Jionni & Enzo are doing great!," a rep for Polizzi told MTV after the 6-pound, 5-ounce little guy made his entrance. The reality star tweeted her exciting news to her millions of followers on Sunday morning.
I am SO IN LOVE with my son Lorenzo Dominic ! I had my little man last night, healthy at 6lbs! HE'S MY WORLD! ❤

— NiC0LE P0LiZZi (@snooki) August 26, 2012
This is the first child for the couple, who announced both their engagement and pregnancy in March after weeks of speculation that the reality star was expecting.
"I have different priorities now," Snooki told Us Weekly in March, confirming her baby news on the magazine's cover. "I don't care what anybody else thinks. As long as I know I'm ready and he's ready."
Since letting the cat out of the bag, so to speak, Snooki has been fairly open about her pregnancy, and she wanted everyone to know she was leaving her party girl image in the past.
"Obviously, no drinking, none whatsoever," Snooki told "Good Morning America" in June. "I'm scared to even have caffeine. My friends were like, 'You can have a glass of wine' and I'm like no, I refuse. I'm going to be that person who has a glass of wine and [the baby] comes out with three legs."
Though fans have gotten a glimpse at life with pregnant Snooki on her latest MTV reality show, "Snooki & JWOWW," she has also been active on Twitter throughout her pregnancy, and often shared thoughts about her baby.
"Ah I can't wait to see my little one whose either going to be a dedicated cheerleader like mommy or a strong wrestler like daddy," she tweeted on April 2, before she and LaValle found out they were expecting a baby boy. Snooki later shared the exciting news on the cover of Life & Style magazine in May, and confirmed in July that she and LaValle had settled on the name "Lorenzo."
Those who feel like they haven't gotten enough of Snooki or her "Jersey Shore" cohorts are in luck -- the final season of "Jersey Shore" featuring the original cast is set to premiere this fall on MTV.