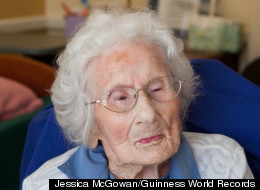 At 116 years of age, Besse Cooper's life bridges the 19th century and the 21st century.
So it's fitting that the woman recognized as the world's oldest living person has had a bridge named after her.
Cooper turned 116 on August 26 in her home town of Monroe, Ga., and one of her gifts was a bridge named after her by the city leaders.
She didn't attend the ceremony, but sent a message through her son, Sidney: "I'm glad I gave them a reason to name it," the Walton Tribune reported.
Cooper was first recognized as the world's oldest living person by Guinness World Records in January 2011, but had to give up the title a few months later when officials discovered that Brazilian-born Maria Gomes Valentim was 48 days older.
However, Valentim died on June 21, 2011, and Cooper was reinstated and has held that title ever since.
She is one of only eight people -- and four Americans -- who have been confirmed to be at least 116.
Born in 1896 in Tennessee, Cooper, who worked as a teacher, married her husband Luther in 1924, and they had four children.
Today, she has 12 grandchildren and more than a dozen great-grandchildren and great-great grandchildren.
Her secret to longevity: "I mind my own business," Cooper said. "And I don't eat junk food."
GALLERY: GUINNESS WORLD RECORDS
Guinness World Record Athletes
The heaviest living athlete in the world is sumo wrestler Emmanuel 'Manny' Yarborough, of Rahway, New Jersey. He stands 6ft 8in tall and weighs a colossal 704lb. He was introduced to the sport by his judo coach and seven years later, he is ranked number one in the Open Sumo Wrestling Category for Amateurs.

Jonathan Macfarlane (New Zealand) threw Andrew Rainford a distance of 4.87 meters (15 ft 11 in) on the set of NZ Smashes Guinness World Records at the Sylvia Park shopping mall in Auckland, New Zealand, on July 25, 2009.

The most consecutive passes of a giant volleyball is 582 and was set by Vanessa Sheridan and Paddy Bunce (both from the United Kingdom) during Capital Breakfast with Johnny Vaughan, Capital Radio, London, UK on November 9, 2006 as part of Guinness World Records Day.

The fastest mile covered on spring loaded stilts is 7 min 13 sec set by Ashrita Furman (USA) at the TSV 1865 Dachau Sports Club in Dachau, Germany, on March 30, 2008.

The longest beach volleyball marathon lasted 25 hr 39 min achieved by Mateusz Baca, Sebastian Lüdke, Tomasz Olszak, and Wojciech Kurczyński (all Germans) in Görlitz, Germany, on July 3-4, 2010. The attempt was made at the Rosenhof sports and leisure center by the four members of sports club VfB Görlitz.

The longest professional wrestling match lasted 12 hours and was promoted by Shockwave Impact Wrestling as the Ultimate Iron Man Match at the Shelby County Fairgrounds in Sidney, Ohio. on November 6, 2010. The match was contested by American Kickboxer II aka Brandon Overholser, Dark Angel aka Mike White, DJ Tom Sharp aka Tom Crone, Logan Cross aka Logan Jones, Sid Fabulous aka Mark Easterday, and "Lightning" Tim Lutz.

The record for the longest time controlling a soccer ball whilst lying down is 10 min and 4 sec and was achieved by Tomas Lundman (Sweden) at the Nordstan Shopping Mall, in Gothenburg, Sweden on November 24, 2007.

The most items kicked off people's heads in one minute is 43 and was achieved by Zara Phythian (UK) on the set of Guinness World Records Smashed, at Pinewood Studios, UK, on March 25, 2009.