In the annals of dry cleaning disasters , it might not rank up there with ruining a Vera Wang wedding dress, burning holes in a suit or washing a memory stick with essential data that was left in a shirt pocket.
But being called an "asshole" by your local dry cleaner still shocked and annoyed Alex, an anonymous consumer whose tale was recounted on Consumerist. After he picked up his clean laundry, he noticed on his ticket that some unknown employee had printed his name as "Asshole, Alex."
"Were they commenting on his behavior as a customer, or was it some kind of terrible phonetic mistake," writes Consumerist.
After he complained, the owner comped his bill but failed to find out who was responsible for the incident.
It's not the first time that cashiers have left their opinions of customers on receipts. Recently, a woman who ordered a veggie bowl and fried pickles at a burger joint was surprised to read that she'd received a $0.02 "Best Butt" discount. And in January, a customer at a Papa Johns in New York City got back a receipt that said "lady chinky eyes" in the customer name field.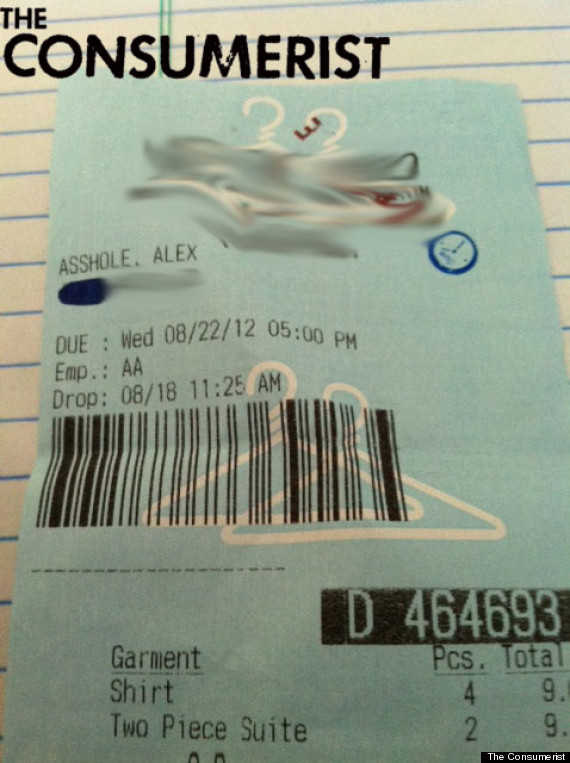 ALSO ON HUFFPOST:
Loading Slideshow
$44 Million Hospital Visit

Unemployed doorman Alexis Rodriguez <a href="http://www.huffingtonpost.com/2012/01/16/bronx-lebanon-hospital-center_n_1208921.html" target="_hplink">received a bill for $44.8 million from Bronx-Lebanon Hospital Center</a>. Thankfully, the outrageous bill was the result of a billing company error, in which they mistakenly put the invoice number in the space where the invoice amount should go.

$201,000 Cell Phone Bill

Celina Aarons of South Florida received a <a href="http://www.huffingtonpost.com/2011/10/18/celina-aarons-201000-cell-phone-bill_n_1017723.html" target="_hplink">43-page cell phone bill </a>adding up to $201,000. The bill was no mistake. Aarons, who also has her two deaf-mute brothers on her plan, forgot to change their data to international after the pair spent two weeks in Canada, accruing up to $2,000 in data charges.

Paying For Crime

After Loretta Robinson's son was killed by a drunk driver, she was <a href="http://www.huffingtonpost.com/2012/06/24/loretta-robinson-mother-billed-cleanup-son-killed-by-undocumented-drunk-driver_n_1622301.html" target="_hplink">billed for various charges, including a $50 charge to clean up her son's blood</a> from the road along with charges to tow and store the suspect's vehicle after the incident.

Auto Bill-Pay Nightmare

Alina Simone thought she didn't have to worry about her cell phone bill as she had set up auto bill-pay. However, when she finally checked her statement, she discovered that she was <a href="http://www.huffingtonpost.com/2012/03/01/sprint-cell-bill-autopay_n_1310312.html" target="_hplink">being charged per text message</a>, racking up more than $700 in fees despite the fact that her plan entitled her to 1,000 free texts per month.

$37,000 In Sweets

A Middletown, Ohio teen got caught <a href="http://www.huffingtonpost.com/2009/02/10/teen-charged-with-billing_n_165531.html" target="_hplink">charging over $37,000 worth of candy</a> to his high school's purchasing number. After the company, The Goodies Factory, became suspicious, authorities arrested the 18-year-old at his home when he went to receive the empty package.

Debtors' Prison

Breast cancer survivor Lisa Lindsay was <a href="http://www.huffingtonpost.com/2012/04/23/lisa-lindsay-breast-cancer-survivor-debtors-jail_n_1446391.html" target="_hplink">arrested after she refused to pay a $280 medical bill</a>, which was sent to her by accident.

Billed After Body Violation

A New Mexico woman was <a href="http://www.huffingtonpost.com/2011/09/07/woman-sent-1000-bill-for-_n_952135.html" target="_hplink">billed for a mandatory body cavity search</a> after being accused of concealing heroin. The search turned up nothing and the woman was not arrested or charged, however she received a bill for $1,122 from the hospital that performed the search.

$16 Million Cable Bill

An Ohio man was <a href="http://www.huffingtonpost.com/2011/04/04/time-warner-cable-bill_n_844506.html" target="_hplink">charged over $16,000,000 by Time Warner Cable</a> after he accrued some odd charges for watching the March Madness tournament. The bill was eventually blamed on human error.
Also on HuffPost: