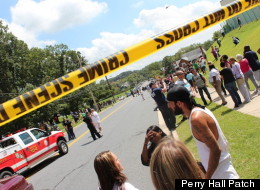 A suspect is in custody following a shooting at Perry Hall High School in Maryland Monday morning, and sources say the incident may have been motivated by school bullying.
"It appears this was a one-on-one grudge situation," a police source told CBS News.
A student reportedly entered the school cafeteria and shot another student in the back by firing at random, according to WJZ-TV. Students report that teachers tackled the suspect, and an estimated 200 students were in the cafeteria at the time. One student was shot and has been flown to a hospital for treatment.
One Facebook page that is being passed around as belonging to the suspect bias this last update: "First day of school, last day of my life. t(~_~t), f--- the world."
An unconfirmed post on a Democratic Underground forum notes that the suspect was bullied over the summer, and "was one of the all-in-black/trenchcoat types."
"We send our students to school to be safe and this is a horrible way to start a school year," Maryland State Schools Superintendent Lillian Lowery told Perry Hall Patch.
Need Help? Call the Crisis Call Center 1-800-273-8255 (24/7) Text ANSWER to 839863 (24/7)