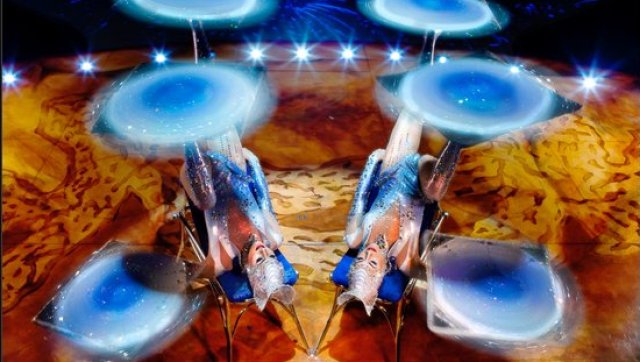 Cirque du Soleil
WASHINGTON -- Cirque du Soleil is taking on the teeny subject of "the fascinating journey of the human species from its original amphibian state to its ultimate desire to fly."
"TOTEM"'s ambitious evolutionary story may not be its strongest point -- but who's going to see Cirque du Soleil for the story?
Check out the slideshow below to catch a glimpse of what you do go see the Canadian circus for: breathtaking acrobatics and amazing costumes. Also, roller skating, unicycling and clowning Neanderthals:
Cirque du Soleil's TOTEM
The show, which opened in mid-August and is running at The Plateau at National Harbor through October 7, is getting good reviews.
The Washington Post puzzled over some of the show's choices -- like a "beach scene, where two buff guys wearing only sequined board shorts perform on a pair of still rings." But the acrobatics thrilled:
Humanity has never looked this superhuman. Unless you've been watching the Olympics lately.
Brightest Young Things, which reviewed "TOTEM"'s Baltimore run, also found certain parts of the show lacking -- again, the beach scene -- while being mesmerized by the show's real strengths:
The show continues with act after act of beautiful choreography and truly astonishing feats of dexterity. A young couple hanging from a trapeze twists and turns around each other in a dizzyingly creative dance. A rollerskating duo put olympic figure skaters to shame. Comic relief "clown" routines are clever and funny. Time and time again these performers do things that you've not only never seen before, but also never even imagined the idea of someone doing them.
YOU MAY LIKE
CONVERSATIONS
FOLLOW HUFFPOST