Art classification is not for the weary-hearted. Sure, sorting the Impressionists from the Cubists might be a task worth little debate, but what happens when art skirts the line between Baroque and Rococo? Dada and Surrealist? Anti-art and anti-anti-art? Sometimes classifying art only makes understanding the shifts in art history more confusing.
This is the philosophy that editors at Phaidon first took on in 1994, when they published the first fully-illustrated art dictionary, "The Art Book." The anthology of art over the ages provided an image heavy overview of masterworks -- sans classification. Simply organized in alphabetical order, the gigantic art reference featured 500 works from the Middle Ages to the mid-'90s, tossing together the various movements, periods and schools in an impressive visual display that had never been attempted in this particular way before.
"Great art can exciting, inspiring and thought provoking, but it can also be confusing," remarks Amanda Renshaw, Phaidon Editorial Director, on Phaidon's website. "The key to 'The Art Book's' success is its simplicity. It's an easy way into that world that is exciting and inspiring, and it's a door that's open to everyone."
Now, nearly twenty years later, Phaidon has introduced an updated edition of its monstrous A-to-Z art book. Adding over 100 new works to its roster and incorporating newer media like photography, performance art, and video installations, the new "Art Book" features the ways in which the art world has been reinvigorated in the last two decades. Still organized alphabetically by artist name, representing each painter, sculptor, or performance artist with a single image and limited text, the category-less art review is a refreshing alternative to the stuffy tomes of yore. This allows Duccio di Buoninsegna to be placed beside Marcel Duchamp, and Alex Katz next to Angelica Kaufman, in a busied presentation that showcases the nonconformity of art.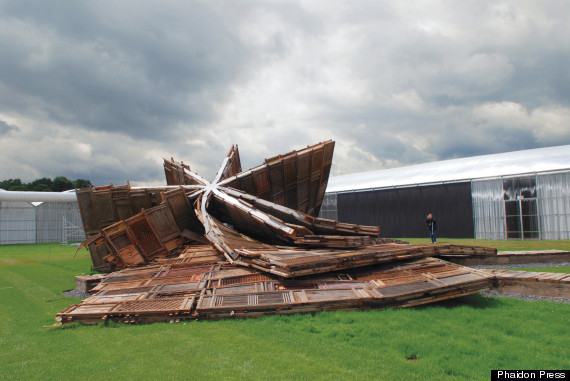 Ai Weiwei, Template. 2007. Wooden doors and windows from destroyed Ming and Qing dynasty houses. h422 × w1106 cm. h1161⁄4 × w4351⁄2 in. As installed at documenta 12, Kassel. From THE ART BOOK (Phaidon Press, October 2012, $59.95) © Ai Weiwei; Leister Foundation, Switzerland.
Our one complaint -- and it's a big one -- is that the new edition has supposedly attempted to bring "The Art Book" into the 21st century, yet it is still apparent that male artists make up the bulk of the book, which focuses heavily on the Western Canon. Although, top artists like Marina Abramovic and Ai Weiwei are rightly included in the group of 70 new additions, a number of well-known street artists are notably missing, as well as successful artists who haven't yet broken into the Western market. Nevertheless, the book is a good start for those searching for the basic building blocks of a modern art education. Just remember that women and minorities are also part of the art world, okay?
"The Art Book" will be available from Phaidon Press in October of 2012.
Check out some of the masterpieces included in the book in the slideshow below. Let us know what you think of this weighty reference guide in the comments section.
SUBSCRIBE AND FOLLOW
Get top stories and blog posts emailed to me each day. Newsletters may offer personalized content or advertisements.
Learn more