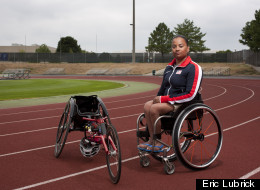 "Bye, mom. We're going on an adventure."
Ian Forber-Pratt always made sure that his younger sister, Anjali, joined him on whatever suburban excursion he had dreamed up. Twenty years later, one sibling adventure still looms large: climbing the 55-foot pine tree in their backyard. As Ian helped his sister make her ascent, her wheelchair — and all the limitations that she may have then associated with it — shrank beneath them.
"My mom was inside doing dishes and she looked outside and realized that her daughter was 50ft up in a pine tree," recalled Anjali during a recent conversation with Huffington. "But instead of her stopping and her freaking out and saying, 'No, no, no you have to come straight down you're going to get hurt,' she let it play out. She let me be a kid and I think that is one experience that really kind of shaped my can-do attitude."
Thanks in large part to that can-do attitude instilled in her at an early age, Forber-Pratt is representing the United States at the Paralympics in London. An elite wheelchair racer, Forber-Pratt's accomplishments are not limited just to the track. Earning a Ph.D. in Human Resource Education in 2012 to go along with the world record she set in the 200-meter race at the Swiss Nationals in 2011, the 28-year-old boasts one of the most impressive resumes of anyone competing in London this summer.
The Early Struggle
Born in Calcutta in 1984, Anjali spent the first two and a half months of her life in an orphanage before being adopted and brought to the United States. Just two months after moving to Natick, Mass., Anjali fell seriously ill. Diagnosed with transverse myelitis, a neurological disorder causing inflammation of the spinal cord, she became paralyzed from the waist down. With the support of her adoptive parents and her siblings — she also has a younger sister and brother — Anjali has come farther than many people outside of her family ever thought she could.
"I was Indian. I was in a wheelchair. There were lots of times in my life when, unfortunately, I did come face to face with naysayers or people who doubted my abilities," recalls Forber-Pratt, who filed a lawsuit against her high school at age 14 in order to guarantee access for students with disabilities. "I knew that it wasn't going to necessarily benefit me, but what I experienced and what I was feeling was not right and it needed to change. And I needed to be that pioneer."
Another Pioneer
On a Monday morning in April, the last place that 5-year-old Anjali wanted to be was stationed at the 8-mile mark of the Boston Marathon.
"I had never seen anything like it," Forber-Pratt recalls of seeing wheelchair racers — including her would-be idol, Jean Driscoll — whizzing by at 25 miles per hour. In third grade, Forber-Pratt wrote a story entitled "When I Meet Jean Driscoll." Eventually, she'd forge a close relationship with the legendary wheelchair racer who won five gold medals, three silver and four bronze over three trips to the Paralympics.
"They were all wearing Illinois jerseys and so I started realizing that just because I have a disability doesn't mean I couldn't go to college, have a family, get a job, do all these different things," Forber-Pratt recalls of that first time she saw Driscoll and the other wheelchair racers at the Boston Marathon. "From that point on, I was bothering my parents because I really wanted to have one of those super fancy shiny race chairs because I really wanted to try it – and everything."
"Everything"
Forber-Pratt made an earnest attempt at "everything" as she grew up, taking up competitive skiing in high school after a wheelchair racing crash left her with two broken wrists. She first made an impression at the 1993 Junior National Wheelchair Games, winning two gold medals, two silvers and a bronze.
"That opened my eyes to the possibility that sport can take you places," Forber-Pratt reflected. After establishing herself as a dominant force at the Junior level, Forber-Pratt made her Paralympics debut in 2008, winning bronze in the 400 meters as well as the Women's 4 x 100m relay in Beijing.
When not training, Forber-Pratt is a public speaker and advocate for Paralympic athletics. With her motto "Dream, drive, do," she attempts to lift others just as her brother helped her when it came to climbing that pine tree so many years ago.
"I've always believed in service to others. I've always, always, always believed in the power of having role models and helping to educate others," says Forber-Pratt. "Having athletic success creates a platform to do that in a much bigger way. I think that being a member of Team USA — wearing USA across my chest — comes with a responsibility to give back to others."
This story originally appeared in our new weekly iPad magazine, Huffington. Download it in the iTunes App store. This story appears in Issue 7, originally available Friday, July 27.