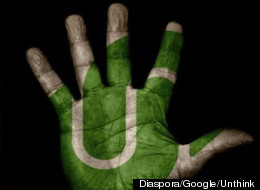 Pull out your handkerchiefs, folks. It's time to mourn another failed "Facebook killer."
The founders of Diaspora, a social startup many once thought could dethrone Facebook, or at least put a significant dent in its usership, announced this week that they are "giving control of Diaspora to the community." What this really means: Though the site presumably will continue working with regular users holding the reins, co-founders Maxwell Salzberg and Daniel Grippi are quitting the project. Their decision comes several months after fellow Diaspora co-founder Ilya Zhitomirskiy died suddenly.
But like many other fledgeling social networks that were similarly hyped as "Facebook killers" or "anti-Facebooks," like Diaspora was in this well-known Village Voice profile, it failed to meet the sky-high expectations of a Facebook-sized user base.
To mark the leaving of Diaspora's founders, let's take a walk down memory lane and revisit some of the highest-profile Facebook rivals, back when they were young, strong and full of potential. Click through the gallery below to see them all. If you're still hankering for more viable alternatives to Facebook, you can check out this list of non-corporate social networks.
Failed 'Facebook Killers'
The nonprofit Diaspora was founded in 2010 with a simple, privacy-minded idea: Instead of entrusting profiles and sensitive information to Facebook's distant servers, each user hosts all his or her own data. This means that individuals own their own information, while Facebook users allow a third party to make money off their data. When Disaspora was announced, casual social networkers were just becoming aware of the privacy they were giving up; but not enough cared to switch from Facebook to Diaspora. As of November 2011, it only had 180,000 users. Status: Still functioning as "a community project."

Launched in October 2011, as Occupy Wall Street was gaining momentum, Unthink took a pro-privacy, anti-corporate stance to social networking, promising users that they would own their own data. The company explicitly labeled itself the "anti-Facebook" (with a promo video mocking Mark Zuckerberg to prove it). Nevertheless, Unthink was still a for-profit enterprise; it asked those setting up profiles either to choose a brand to sponsor their page or pay a $2 fee. Status: Inactive. As of August, the URL for the website leads to a mostly empty landing page.

Launched in 2011 by one of the most powerful web giants, Google+ had strong prospects in the beginning. It marked Google's most aggressive social networking push, and it appeared to be gunning right for Facebook. While Google+ features profiles, status updates and other similar features to those found on Facebook, Google's social network differentiated itself with a stronger emphasis on personal privacy and touted its "Circles" feature, which lets users post exclusive updates to groups of friends. Though initially popular enough to attract 100 million users in an impressively short amount of time, user activity was said to have dropped so low that the media eventually dubbed Google's social experiment a "ghost town." Status: Alive and kicking, despite all the "ghosts."

Before Google+, there was Google's more disastrous social attempt, Google Buzz. Unlike its younger cousin, which operates a lot like Facebook, Google Buzz acted more like Twitter: Essentially it was a microblogging tool embedded right into Gmail, from which Buzzers could comment on status updates, videos, and photos posted by people in their contacts. Cool idea, but the feature's launch was marred by a major privacy stumble. After complaints that Buzz had exposed users' frequent contacts, the Federal Trade Commission charged that Google had been "deceptive" about the privacy built into the feature. As part of a settlement with the FTC, Google now must submit to biennial privacy audits for the next 20 years and must make explicit to users any changed in the way their privacy is shared. Status: Inactive. Google bulldozed Buzz in late 2011, after Google+ had launched.

Pip.io went live in 2009 as a social network built on top of other social networks. From Pip.io's update omnibar, users could post to Facebook, Twitter or both simultaneously; users could also send messages directly to individuals and post exclusively to Pip.io. The convenience of having all your social feeds organized on one site was suppose to make Pip.io a one-stop social shop. Status: Inactive as of May 2012. "I have decided to shutdown Pip.io and pursue other dreams," founder Leo Shimizu wrote.

Privacy advocacy was at the forefront of web users' minds in 2010, when OneSocialWeb was born. Similar to Diaspora, OneSocialWeb aimed to be a decentralized social network that let users own their own data. Status: "The OneSocialWeb project team is not currently driving active development of the source code," the site reads.

Global Square, an Occupy Wall Street-affiliated social network, is similar in premise to Diaspora and OneSocialWeb. The site was dubbed a threat to Zuck and co. by the Village Voice in early 2012. Geeky Occupiers started coding the site in late 2011 and intended it to be a "Facebook for the 99 percent." "I don't want to say we're making our own Facebook. But, we're making our own Facebook," one developer told Wired. Status: As far as we can tell, it still hasn't launched publicly.

Anybeat was another "anti-Facebook," in the sense that it was a social network designed to connect you anonymously to people you didn't already know. Somewhat tellingly, the site prompts comparisons in our minds to Chatroulette, the randomized video-hangout-turned-NSFW-skinfest that fell from grace as quickly as it rose to prominence. Anybeat was bought and shuttered in May 2012, a year after it opened its doors; founder Dmitry Shapiro (pictured above), moved to Google to work on Google+. Status: Shut down.