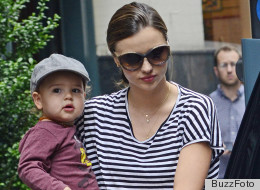 Models' kids becoming models is one of the most unfair materializations of the apple-tree theory. The latest stylish spawn to win the genetic lottery and dip his toes into the modeling world? Miranda Kerr and Orlando Bloom's baby boy Flynn.
Even though he's not even two years old yet, the little guy is already showing signs of following in his mother's fashionable footsteps. The kid was even crafty enough to turn an airplane into his personal catwalk. His 29-year-old mother told the Daily Express:
"He knows the drill when we get on the plane and he likes to walk up and down the aisle smiling at everyone. He will stand there until each person notices him. Once he gets a smile he's on to the next person."
Like mother, like son, right? Miranda seems to enjoy talking about her son (like, a lot), so we're sure we'll be notified the moment Flynn actually begins to model if that's really in the cards for him. Come to think of it, we've been hearing about a bunch of models' kids-turned-models lately. Christy Turlington posed with 8-year-old daughter Grace in the inaugural issue of Dujour this month, Cindy Crawford just appeared in JC Penney ads with 10-year-old daughter Kaia and Lila Moss, Kate's 9-year-old daughter, has already landed a Vogue shoot with her mom.
And even though these little models have already garnered some pretty major fashion credits, we have no doubt that Flynn will give them some stiff competition in a few years. The only model tot we think he'll have to watch out for is Gisele Bundchen's little one that's on the way. Ah to be the recipient of the ever-elusive modeling gene...
See more model moms!
Daughter Anja Mazur (WireImage photo)

Daughter Leila Rose (Getty photo)

Daughters Sara Kate and Gerogia Tatom (Getty photo)

Daughter Rumi (Getty photo)

Son Jack and daughters Alexa Ray and Sailor (FilmMagic photo)

Son Augie (Getty photo)

Son Flynn

Daughter Lily (Getty photo)

Son Peter

Daughter Grace (Getty photo)

Daughter Ever Gabo (Getty photo)

Daughter Zulekha (Getty photo)

Daughter Vida (FilmMagic photo)

Son Henry and daughter Leni (Getty photo)

Daughters Charlie and Dolly (FilmMagic photo)

Archie Dury and son Tobin Jack (Getty photo)

Son Presley Walker and daugther Kaya Jordan Gerber (FilmMagic photo)

Daughter Lila (WireImage photo)

Daughter Clementine and son Caspar (FilmMagic photo)
Want more? Be sure to check out HuffPost Style on Twitter, Facebook, Tumblr and Pinterest.