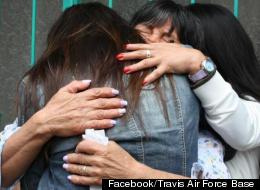 Nicole Culverhouse's story starts 36 years ago in a Bogotá, Colombia. A young girl, she was playing in the park with her brother Jose as her parents worked at a food cart nearby. Her brother ran to get a drink, but Culverhouse stayed behind. That was the last time her family saw her -- until recently.
Earlier this month Culverhouse reunited with her biological family for the first time, in a heartwarming meeting in her native city. A Facebook group, a Colombian travel blog and countless others helped Culverhouse find the family she was ripped away from at such a young age.
Back on that fateful day in 1975, when Culverhouse was sitting alone in the park, she was kidnapped by a woman in a black dress who took her to an orphanage, where her hair was cut and her name was changed. She later moved to the United States with the American family that adopted her and grew up comfortably, but she always remembered every detail of the day that drastically changed her life -- from the little door on her family's food cart to the dimple in her dad's chin.
"Since I was four when I was kidnapped I always remembered the story," Culverhouse told NBC Latino. "I always wanted to go back but I just lacked the opportunity, the money, the courage."
Culverhouse's kidnapping highlights a problem that has silently raged on for years in Colombia. According to the U.S. State Department, 216 Colombian children were adopted by American parents in 2011 -- higher than any other South American country. But recently, several local news outlets have accused Colombia's Family Welfare Institute of kidnapping native children and giving them up for adoption to foreign parents.
After her adoption, Culverhouse made her own way in the U.S., rising through the ranks of the Air Force to master sergeant and getting married, but her curiosity in her heritage and seeing her family again pushed her to begin searching.
She stumbled across a Facebook group called Adopted From Colombia, and began reaching out to other adoptees who were also searching for their biological families. Culverhouse decided to return to Colombia for the 70th anniversary of Casa De Madre y el Niño, the orphanage that took her in, and reached out to See Colombia Travel to try and track down the park where she was abducted. She found a helpful resource in Marcela, a See Colombia Travel blogger, who was overwhelmed by her tale and offered her services as a translator during her trip to Colombia.
Over four months, Culverhouse planned her trip, leading up to the moment when she was contacted by a woman via email who thought her name might be Viviani.
"I traveled to Perservancia and went to the churches there to search for baptism records on myself and my brother," Culverhouse told Staff Sgt. Patrick Harrower, who wrote about Culverhouse's story on the U.S. Air Force's website. "I even walked through the streets with a pencil sketch of me as a child that I had a street artist draw to see if anyone knew the story."
Unfortunately, when she met the family in person, she realized there was a glaring disparity in their histories -- their daughter was kidnapped in 1992 and Culverhouse was taken in 1975.
After the heartbreaking meeting, Culverhouse traveled to Cartagena, seeking some reprieve from the emotionally exhaustive search, when she received another message -- this time through Facebook. Two people claiming to be her cousin and brother-in-law reached out to her after seeing her story broadcast on a local TV station. They included photos of the family and a picture of one of the cousins showed an uncanny resemblance to Culverhouse.
The hunch that Culverhouse was, in fact, Irene, the kidnapped daughter of the Blanco family proved to be true. Marcela spoke to Culverhouse's biological mother over the phone and the stories matched up perfectly. Culverhouse traveled to a southern neighborhood of Bogota, where her mother was living, and reunited with her biological family for the first time in 36 years.
"When we got there, all I could hear from everyone was 'that's her,'" Marcela wrote in a blog post.
Fortunately, the heartwarming moment was caught on film as Culverhouse is welcomed into the open arms of her mother and sister on the streets of Bogotá. (See video above.)
Her father, brother and the rest of the extended family traveled to the town as soon as they heard word of Irene's return. The rowdy reunion was filled with Salsa dancing and celebration.
"They were teaching me how to be Latino," Culverhouse told NBC Latino.
After a four-day reunion in Bogotá, Culverhouse had to return to her life in the U.S. but plans to fly back in December to celebrate the holidays with her family.
"They never forgot about me," Culverhouse said. "They always told my story to my nieces and nephews so nobody would forget what happened."
Watch the video above to see Culverhouse's heartwarming reunion with her family, and check out the gallery below to see 10 other first meetings that will make your heart melt.
(Image via Facebook/Travis Air Force Base)
Heartwarming First Meetings
A baby Gentoo penguin met blogger and world traveler Joel Oleson for the first time last May while Oleson visited Antartica. Gentoo penguins are listed as "near threatened" on the IUCN Red List. The captivating meeting went viral as these things tend to do.

Baby, meet puppy. Puppy, meet baby. Now sit back and enjoy the ensuing adorableness.

From the video's description: "Lauren was adopted at birth. She always knew that she had a sister, but was not able to locate her until September 2009 when she was 24 years old. They have been talking on the phone for the last year and a half and were finally able to meet for the first time!" The video's a little long to so skip to 3:30 to see the actual reunion. Warning: you'll likely get a little teary-eyed!

After meeting in a Halo 3 game lobby 5 years ago, this couple began dating online within 3 years. This was their first meeting since they met virtually though they have spoken on Skype. She is from Texas and he lives in Tennessee.

Corporal Greg Bacon was in Iraq when his first son was born. He watched his son being born over Skype, and it was 3 months later that Greg Bacon was able to come home and see his son Dean. "Spending every single second with my son and my wife, that's all I care about right now...Oh my God, it feels great," Bacon said.

This is a lovely 10-minute documentary of a woman meeting her birth mother for the first time. Skip to 6 minutes to see the bit where they finally meet followed by a slideshow of their two weeks together.

Michael Hubbard has been looking for his dad since he was 18-years-old. 31 years later he finally met his father, Warren Powell. Powell had a relationship with Hubbard's mom in the 60's but never knew that she was pregnant.

Lance Corporal Spencer Ellis, of the U.S. Marine Corps, met his 5-month-old baby son for the first time after returning from deployment in Afghanistan. In the video, his wife Katarina is at Hartsfield-Jackson Airport awaiting his arrival.

Daddy Persian cat meet his daughter for the first time and even in the cat world it seems nerves run high. Check out other first meetings between cats and their kittens.