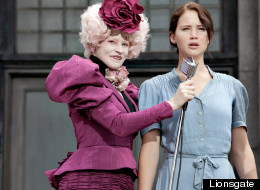 The glitz and glamour of Hollywood exists in stark contrast to the harsh economic realities millions of Americans face on a daily basis. Yet throughout history, filmmakers have often tackled poverty onscreen in ways that spoke to their respective generations.
From Great Depression-era classics like "Grapes of Wrath" and "Sullivan's Travels," to 2012 blockbusters like "Hunger Games" and "The Dark Knight Rises," Hollywood has often used big-screen entertainment to mirror society's economic disparities and hardships.
HuffPost Entertainment has gathered some of the most popular films that deal with poverty. Weigh-in with your own thoughts about how the filmmaking industry can do a better job of highlighting the issue in the comments below.
HuffPost Live will be taking a comprehensive look at the persistence of poverty in America Aug. 29 and Sept. 5 from 12-4 p.m. EST and 6-10 p.m. EST. Click here to check it out -- and join the conversation.
John Ford's adaptation of John Steinbeck's Pulitzer Prize-winning novel was released during the Great Depression and showed the harsh realities of extreme poverty and the lengths families will go to protect their own.

Preston Sturges' winning comedy was meta before meta was en vogue: A film director famous for his comedies decides he wants to make socially conscious movies during the Great Depression. It's only after he travels away from his high-society life that he realizes even the poorest among us sometimes just need a laugh.

Another film made in the shadow of the Great Depression, Frank Capra's "It's a Wonderful Life" proves that even in the face of evil and heartless bankers (sound familiar?), the American spirit can't be broken.

The acclaimed biography of country singer Loretta Lynn, who rose up from an impoverished upbringing in a Kentucky coal-mining town to become one of the world's biggest singers. "Coal Miner's Daughter" is one of the many examples of poverty being used as a backdrop for one of Hollywood's best narrative tropes: the underdog story.

This Reagan-era comedy brought the "nature versus nuture" debate to the screen using the comic timing of Eddie Murphy and Dan Aykroyd, both in their primes.

Like "Coal Miner's Daughter" and "Trading Places," this 1997 Oscar winner uses the classic underdog story as a window into poverty in America: Will Hunting (Matt Damon), a poor janitor and construction worker, is actually a mathematical genius. "Good Will Hunting" goes one step further, however, in presenting the idea that Will's friends also want him to succeed as a victory for all.

James Cameron's "Titanic" might have been about the 1912 disaster, but it's depiction of the haves and have nots was certainly prescient to the class divide now facing America.

Another classic underdog story, "Pursuit of Happyness" blends elements of "Good Will Hunting" and "Grapes of Wrath" into a feel-good story: Even faced with living in bathrooms, a parent will always try to do what's best for his or her children.

While not focused on American poverty, the Best Picture-winning "Slumdog Millionaire" shed light on the global strife facing many. Like the best films that focus on the have nots, "Slumdog Millionaire" was also an underdog story about doing whatever is necessary for loved ones.

In a way, "Precious" is a lot like "Slumdog Millionaire": The film, which won an Oscar for Best Adapted Screenplay and Best Supporting Actress, was an important crossover hit which showed millions a side of poverty that is oft-ignored onscreen.

The trend of Oscar-nominated looks at impoverished members of society continued with 2010's "Winter's Bone." The film focuses on a young girl (Jennifer Lawrence) caring for her mentally ill mother, brother and sister in rural Missouri, and the lengths she'll go to protect her family.

Also starring Jennifer Lawrence, this blockbuster is one of the most successful films ever made about poverty, though because "The Hunger Games" is also about a glossy fight-to-the-death reality competition, the medicine went down with some sugar as well. The film showcases the growing class disparity currently facing America, and paints an ugly picture of where it might end up. The adaptation of Suzanne Collins' smash hit novel is notable for presenting the notion of fiscal inequality to a young audience.

The first blockbuster that's also a treatise on the Occupy movement, "The Dark Knight Rises" takes no prisoners in its depiction of crooked bureaucrats, disinterested haves and disenfranchised have nots. As Selina Kyle (Anne Hathaway) purrs to Bruce Wayne (Christian Bale) during a masquerade gala, "You and your friends better batten down the hatches, because when it hits, you're all gonna wonder how you ever thought you could live so large and leave so little for the rest of us."