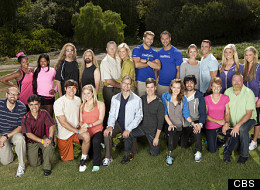 "The Amazing Race" Season 21 cast includes reality stars, exotic dancers, monster truckers, a lumberjack and so much more.
The new season, which kicks off Sunday, Sept. 30 at 8 p.m. ET on CBS, will feature a new twist: a $2 million prize. If the team that wins the first leg of the season outraces the other 10 teams and wins the final leg of "The Amazing Race," that team will get $2 million instead of the $1 million grand prize.
Contestants for this season include Josh Kilmer-Purcell and Brent Ridge from "The Fabulous Beekman Boys," Chippendale dancers Jaymes Vaughan and James Davis, Megadeth band member James LoMenzo and more. Meet the rest of the cast in the slideshow below.
Dating Divorcees Abbie Ginsberg (left) and Ryan Danz.

Dating couple Trey Wier (left) and Alexis "Lexi" Beerman

Married Monster Truckers Rob and Kelley French

Substitute Teachers Gary Wojnar (left) and Will Chiola (right)

On and Off Daters Amy Purdy (left) and Daniel Gale (right)

Chippendale friends Jaymes Vaughan (left) and James Davis (right)

Best Friends Caitlin King (left) and Brittany Fletcher (right)

Engaged couple Rob Scheer (left) and Sheila Castle (right).

Friends James LoMenzo (left) and Mark Abbattista (right)

Goat Farmers/Life Partners Josh Kilmer-Purcell (left) and Brent Ridge (right).

Twins Natalie (left) and Nadiya Anderson (right).

The cast of "The Amazing Race."