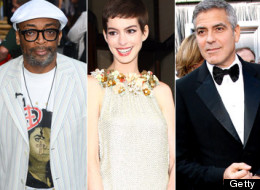 The topic of celebrities donating to politicians or commenting on issues of national importance is a familiar one, if only because there seem to be three immediate reactions to the idea of mixing stars with politics.
In one tip of the triangle are the folks who believe celebrities have no place speaking about or attempting to influence politics. In another, there's the notion that anyone famous is automatically not knowledgeable enough to add anything meaningful to the debate. And finally, there's the group who could not care less about whether actors, actresses and musicians have anything to say about politics.
There's undoubtedly evidence to support and contradict all three of those ways of thinking about Hollywood's relationship with American politics, but there's far more proof that the nation's elections are increasingly about money. And if there's one thing Hollywood has that politicians desperately want, it's money.
Money over publicity, it's worth noting. The fine line between mingling with celebrities and looking out of touch (dare we say, "elite") is a difficult one to navigate. This was made clear when President Obama said that though he considers George Clooney a close friend, he appreciates that Clooney is wary of appearing too close to the president. That's somewhat surprising, given that Clooney has raised over $15 million toward Obama's reelection (a friend indeed). More on that to follow shortly.
On the other end, Republicans have had to navigate relationships with blowhards such as Donald Trump, Ted Nugent and Hank Williams Jr. While these figures certainly have their fan bases, the thrust of their anti-Obama commentary proves too embarrassing for any sort of surrogacy. Of course, more level-headed conservative politicians such as Kelsey Grammer are also in their corner, but the wildest voices often win out.
In the gallery below, we've collected 16 people who are fixtures in the entertainment world and have taken a strong interest in the election. From Clint Eastwood and Kelsey Grammer to Lady Gaga and Anne Hathaway, the list is a cross-section of the showbusiness' allegiances. There are, of course, many others. But the 16 actors, actresses, musicians, TV hosts, studio heads and directors we've chosen have put their money where their ideology is and plunked down serious cash, hosted million-dollar fundraisers or both.
The No Doubt singer and L.A.M.B. designer hosted the First Lady at her Los Angeles home in August. That event was attended by Nicole Ritchie, Joel Madden, Jeffrey Tambor, Alyson Hannigan and No Doubt member Tony Kanal. Tickets were $2,500 for a family of four, and about 400 people were said to attend.

The charming actor is undoubtedly the campaign's brightest star. Aside from hosting a dinner which ended up bringing $15 million into the campaign's coffers (through the sale of $40,000 tickets and a contest through which fans could enter to attend by donating $3), he has dialed up over $500,000 in Geneva as well. The latter fundraiser featured contributors shelling out $15,000 each for dinner and another $5,000 for a photo with Clooney. The President has said the actor is a true and brilliant friend. He forgot to mention "highly lucrative."

... and John Krasinski, Jennifer Garner, Reese Witherspoon, Zach Braff and Tobey Maguire. Though that list of names reads more like a red carpet tip sheet than a fundraiser guest list, all of the above celebrities lined up and brought out their check books for Elizabeth Warren. The consumer advocate, law professor and creator of the Consumer Financial Protection Bureau got a big boost from the stars, who supported her bid to reclaim Ted Kennedy's Senate seat for the Democrats, from Scott Brown and the Republicans. A May event at "Lost" creator J.J. Abram's house was said to net over $250,000 for Warren's campaign. Harvey Weinstein, Jeffrey Katzenberg and Steven Spielberg were said to have sent checks.

Clint Eastwood It's a bit lonelier on the other side, but Clint Eastwood made Romney proud by endorsing the former governor's fiscal policy -- and handsome mug. At a fundraiser in early August, Eastwood announced he would vote for Romney, the type of candidate the actor said America needed "now more than ever." (Romney's reaction: "What a guy.") That puts Eastwood in the company of Kid Rock, Jon Voight and Kelsey Grammer.

The "Glee" creator was one of many Hollywood figures who brought out their checkbooks in the wake of Obama's support of same-sex marriage. Julia Roberts, Jane Lynch and Reese Witherspoon were among those who took part in a fundraiser hosted at Murphy's home. About 70 people were said to attend, with tickets going for $40,000 per couple. If we assume most came as couples, a cool $1.4 million or more could have been raised.

The "Dark Knight Rises" actress has been spotted at Occupy Wall St. protests, so it's not shocking that she would lean a little to the left. She attended a fundraiser at Harvey Weinstein's house, where the president described her as "the best part" of the Batman movie. ("Newsroom" and "West Wing" scribe Aaron Sorkin also got a plug: "He writes the way every Democrat in Washington wished they spoke.") The dinner, which cost $35,000 per person, was attended by Anna Wintour and Jerry Springer as well.

The singer is currently working on a bit of a comeback, but a June fundraiser featuring a performance by Carey was solid enough to bank $2.5 million for the president. Mr. and Mrs. Obama were in attendance, and the event took place the same day as Jessica Parker's. Efficiency is always the aim, it seems.

Warner Bros.' CEO (pictured here with Sen. Patrick Leahy and Clint Eastwood) presided over an event at his home, welcoming the FLOTUS into an eager crowd that included WB TV President Peter Roth, Netflix executive Ted Srandos, HBO Vice-President James Costos, DreamWorks Animations COO Anne Globe. Chelsea Handler also attended. Tickets were $2,500 and a photo with Michelle Obama cost an additional $2,500.

Back in May, Weinstein's overall contribution to Super PACs pointing Obama's way was already valued at nearly $700,000. Since then, he's hosted a fundraiser at his home and referenced the president favorably in countless interviews. In Hollywood, it's good to have Hollywood on your side. Perhaps the same goes for Washington?

The "Sex and the City" star hosted the president and first lady at the home she shares with husband Matthew Broderick. There were about 50 who attended the highly exclusive event, and guests like Anna Wintour, Meryl Streep, Michael Kors and Aretha Franklin eagerly doled out the $40,000 ticket fee for the chance to mingle with the Commander in Chief. The dinner was said to have raked in $2 million for the campaign.

The "Red Hook Summer" director hosted the POTUS, who received not only $1.6 million (according to Lee), but also a pair of custom Nikes. Mariah Carey and Nick Cannon were among those who attended. Lee continues to speak favorably of Obama in interviews.

Gaga may be busy touring and recording (naked), but the "Born This Way" pop star found time for a fundraiser in Silicon Valley. As always, the singer dressed eccentrically, wearing a floor-length lace dress which she paired with a giant hair-do and a veil hair piece. Gaga had said she wanted to meet with Obama to discuss bullying.

Obama has shouted out David Simon's "The Wire" as his favorite show, so it's no wonder the cast of the program returned the favor in August. Multiple former cast members spoke at an event in Martha's Vineyard, just a day after Simon ripped into Mitt Romney on his blog. Simon rejected Romney's attempt to calm a growing controversy surrounding his tax returns by assuring reporters that he had never paid below 13 percent, a number Simon found "absurd."

The Frasier star floated the idea that he was snubbed for an Emmy for "Boss" on account of his openly conservative views. Grammer donated to John McCain, Rudy Giuliani and George W. Bush when they were each running for office and has been all the more vocal about his views this time around.

What can be said? Angelina Jolie's father has made a cottage industry out of supporting Republicans, though he's a bit prone to gaffes. In a speech at the Republican National Convention, Voight compared Obama's administration to Cesar Chavez, mistakenly invoking the co-founder of the National Farmworkers Association. It's safe to assume Voight meant to compare Obama to Venezuelan president Hugo Chavez. Voight has donated to conservative politicians in the past.

The comedian and talk show host donated $1 million to Priorities USA, a Super PAC which supports Obama and has also fielded contributions from Steven Spielberg. In an appearance on HuffPost Live, Maher explained that he hoped his decision would inspire others in Hollywood to do the same, and said he believed Morgan Freeman's recent donation proves that his plan had worked. He also frequently fact checks and disparages Romney and the Conservatives on his HBO show.
HuffPost Live will be taking a comprehensive look at the corrupting influence of money on our politics Aug. 30 and Sept. 6 from 12-4 p.m. EDT and 6-10 p.m. EDT. Click here to check it out -- and join the conversation.