This article comes to us courtesy of Tasting Table Miami.
Each month, HuffPost Miami joins our friends at Tasting Table to highlight our five favorite finds from Miami's exciting culinary scene. After eating around the area, here's what caught Tasting Table Miami editor Trina Sargalski's eye in July:
Honey, You Must Try This
Garden of Ian South Florida raw honey is popping up on menus all over town. Ian Wogan's wildflower honey lacquers the empanadillas de bacalao, wontons filled with salty codfish cream, at The Bazaar by José Andrés. Also try the honey at Tuyo: on braised turnips with butter and served with pork roulade, or unadulterated, with the cheese plate.
Plant Yourself at the Bar
The cocktails at Bloom Wynwood rely heavily on the jars of herbs, fruits and vegetables that bookend the bar. Miami's twin loves of juicing and cocktails intersect here at Bloom. We'll drink to that.
Where's There's Smoke
Georgia's Union has much to offer in its Southern-inspired menu, from lemony Cornish game hen to braised white cabbage (taste it before you knock it) to some lovely cocktails. However, a must-try is the smoky Eggs Went Down to Georgia appetizer. These are not your grandma's deviled eggs (although hers are quite nice too).
Related on HuffPost:
Share +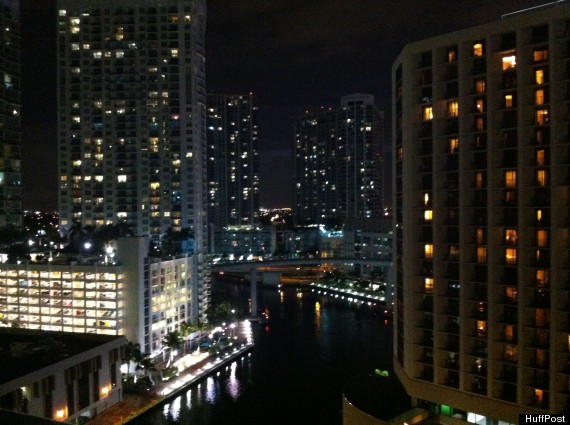 Perched on the 16th floor of the Epic Hotel with a view of the Miami River, Area 31 is the kind of aerie we love -- the kind that offers stunning views and delectable, locally-inspired fare in equal measure.
Fortunately for downtown diners, after grabbing a few months' beauty rest, the restaurant reopened last month with an updated interior and a new executive chef at the helm. Wolfgang Birk, who previously served as the opening executive chef at Casa Casuarina and Cooper Avenue, now heads up a team that includes charming lead bartender Dean Feddaoui and master sommelier Emily Wines.
On Birk's new menu: chilled melon and cucumber soup ($11), greens from Homestead's famed Paradise Farms ($11), fluke topped with caviar ($14), crab cakes ($16), and bone-on ribeye with crisp yucca potato and bone marrow bordelaise ($42). The lobster wonton ravioli ($28) is a winner, as is roasted lamb ($32), but nowhere was Area 31's new direction toward local, farm fresh raw materials more evident than in a perfectly dressed baby beet and fried goat cheese salad with blood orange and marcona almond shavings ($12). It's a stunning combination.
Inside, Area 31 is chic yet comfortable, dressed in neutrals to show off floor-to-ceiling windows and a massive wine installation. On the terrace, the dramatic view's the thing. Just beyond the table is a twinkling expanse that makes Area 31 feel like the sort of place in which secret lovers in films (and we mean that in a good way). Surrounding towers sprouting across the river in Brickell give the open air terrace a cozy feel, but views up the Miami River and out to Biscayne Bay don't let diners forget there's no other place like this in the city.
When to go: in addition to dinner (6 p.m. - 10 p.m., until 11 p.m. on Fridays and Saturdays), Area 31 is open for lunch from 11:30 a.m. - 3 p.m. with time-friendly fare including a brisket blend burger ($15) and crispy mahi fish taco ($14). The Terrace Lounge features a DJ on Thursday and Friday nights.
Loading Slideshow
Baby Beet and Goat Cheese

Chilled Sweet Pea Soup

Cobia Burger

Crudo Tasting

Fluke Crudo

Lobster Wonton Ravioli

Lobster Wonton Ravioli

Octopus

Panna Cotta

Seared Diver Scallop

Seared Diver Scallop

Seared Local Grass Fed Beef

Seasonal Tomato Flatbread

Executive Chef Birk

Chef Birk

Area 31