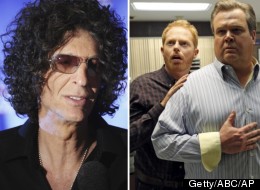 With the elections right around the corner, this week was a politically charged one in the TV world -- especially in regards to gay rights.
Not only did Ann Romney declare "Modern Family" her favorite show, despite being openly against gay marriage, but Ellen Barkin gave a strong opinion on the backlashNBC's new show "The New Normal" has received because it centers on a gay couple.
Additionally, Charlie Sheen's show "Anger Management" got the green light from FX to crank out 90 more episodes, while MTV finally burned out on "Jersey Shore" and announced that its upcoming Season 6 would be the show's last.
Click through our slideshow below to see what happened in the TV work this week and the lessons we learned from these events.
What TV Taught Us This Week
The Event: After getting fired from "Two and a Half Men" in 2011, Charlie Sheen took on the sitcom "Anger Management" which premiered to 5.5 million viewers in July. Although the FX comedy's ratings dipped in the subsequent episodes, they remained strong enough for the network to order 90 more episodes. Winning! The Lesson: Airing your dirty laundry, getting fired and going on Twitter rants keeps you famous (and rich) for a long time.

The Event: This week, Ann Romney revealed just how much she loved "Modern Family," a show that centers on a loving gay couple. Interestingly enough, she is against gay marriage as co-creator Steve Levitan noted on Twitter. The Lesson: Entertainment knows no political bounds.

The Event:In addition to Jimmy Kimmell responding with the words "F--- him" at a media panel in New York City when asked about Leno, Howard Stern called him a "dummy" (and a lot of far harsher names). When NBC advised Stern -- who currently appears on the network's show "America's Got Talent" -- against speaking out against Leno, he angrily suggested NBC fire him. The Lesson: Don't bite the hand that feeds you.

The Event: After 21 years as everyone's favorite hunky hit man, Steve Burton announced his departure from "General Hospital" on Tuesday. But Burton isn't the only guy saying goodbye to his soap: Ron Moss and Susan Flannery both announced their exits from CBS' "The Bold And The Beautiful" within days of each other. The Lesson: All good things must come to an end.

The Event: After five seasons of mayhem from the shores of Seaside Heights, New Jersey to Florence, Italy, MTV has announced that "Jersey Shore" will end after its upcoming Season 6. The days of GTL are almost behind us! The Lesson: All not good things must come to an end.

The Event: While speaking with a group of journalists on Wednesday, Ellen Barkin addressed backlash against NBC's new comedy "The New Normal" (which she stars on), particularly by anti-gay organizations. "It's not just hate, it's fear of the other," she said. "Hopefully we will learn that it's just not scary and there's nothing to be afraid of." And here's the best part: She plays a homophobic grandmother on the series. The Lesson: Never judge an actress by her character.

The Event: After their on-screen parents spent months campaigning for salary raises, their kids (Sarah Hyland, Ariel Winter, Nolan Gould and Rico Rodriguez) were quietly told they would be receiving $70,000 per episode. They're millionaires! The Lesson: Monkey see, monkey do, monkey get.

The Event: After appearing in an Old Navy back-to-school commercial together, former "90210" co-stars Jennie Garth and Luke Perry are now in talks to star in a sitcom together. The Lesson: You can always rekindle an old flame.