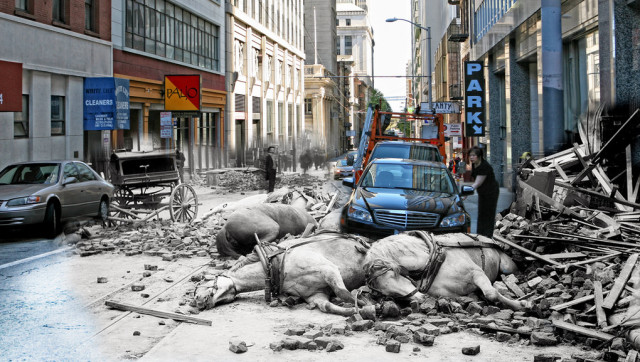 Photos of San Francisco's devastating 1906 earthquake are certainly affecting, but have never quite served as the disaster porn that explodes across the Internet during current catastrophes. Until now.
"I've always been frustrated by typical 'then and now' photos because the photographer always seems to do a sloppy job aligning his 'then' photos with the 'now' photos," wrote Clover on his site.
Clover spent years pouring through photo archives and recreating shots exactly, taking into account details like where the photographer was standing, the position of the sun, how high the camera was off the ground, the lens and film medium and other factors.
His perfectionism clearly paid off.
Check out a preview of the terrifying collection in our slideshow below, and see many more on Clover's website. (P.S. - According to Clover, more are on the way!)
Shawn Clover "1906 + Today: The Earthquake Blend"
SUBSCRIBE AND FOLLOW
Get top stories and blog posts emailed to me each day. Newsletters may offer personalized content or advertisements.
Learn more