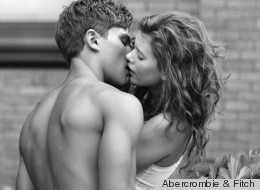 When we recently asked our staff members, "What are stores you simply don't shop at anymore?" Abercrombie & Fitch ranked top of the list. In our younger years the ubiquitous logos, purposely frayed edges and distressed denim felt cool; these days, the sexy-preppy aesthetic is much less our speed.
Unfortunately for Abercrombie, we're not the only ones feeling less than charmed by the retailer's signatures. In February, Abercrombie CEO Mike Jeffries announced plans to close 180 of its U.S. stores by 2015. More recently, on August 15, Jeffries released the brand's second quarter results and declared the numbers "disappointing and below our expectations." So what exactly is Abercrombie doing wrong?
In a recent piece in Business Week, reporter Sapna Maheshwari writes that Abercrombie is dishing out a product and image that simply doesn't appeal to its customers. Today's teens have no use for Abercrombie's formula of preppy uniformity and overt sexiness.
Kids these days favor something more unique, retail consultant Marcie Merriman tells Business Week: "They've developed a more individual style from exposure to fashion via the Web and social media." Wearing weathered graphic tees and polo shirts like all the other kids isn't as cool when the blogosphere is bursting with interesting, innovative style inspirations. Plus trends, like everything else, move faster these days -- Abercrombie is still selling essentially the same styles it did when we were teens.
In addition the oversized half-naked models, so titillating when they first debuted, are no longer shocking nor appealing, reports Maheshwari. No matter the generation, teenagers seek out edginess and try to push boundaries and Abercrombie's implied nudity simply isn't edgy in 2012.
Thus A&F sales have fallen this year by as much as 10 percent. On the other hand, trend-seeker TJ Maxx and edgy Urban Outfitters both saw a rise in second quarter earnings. Abercrombie should take note.
Read more at BusinessWeek.com and sound off below: do you still shop at Abercrombie & Fitch?
What stores did we previously shop at that we haven't frequented in years?
Stores We Don't Shop At Anymore
"In high school my friends and I were all about Hollister and Abercrombie. If you didn't wear it you might as well have crawled in a hole and died. So I was pretty much stocked up on seagull and moose donned polo shirts, plaid shorts and skirts." - Nicole Guzzardi, Stylelist Home intern

"H&M was one of my go-tos for affordable basics and statement jewelry. But over recent months, I've grown really frustrated with the fast fashion retailer. From the wonky sizes to the flimsy materials, it's not even worth spending five dollars." -- Dana Oliver, HuffPost Beauty Editor

"Everyone in my high school bought flared black pants and satin button-downs there (it was the '90s), but I haven't bought anything there since 2001." - Jessica Misener, HuffPost Style editor (Getty photo)

"I used to think large thrift stores that sold really cheap clothing were great bargains... until I saw Forever 21 and H&M pieces that were selling for as much as they were in the real stores." -- Style intern

"Armani Exchange used to be the pinnacle of edgy apparel with a reasonably affordable tag. But somewhere down the line, the quality of their clothes started to decline and their designs looked pretty tacky." -- HuffPost Home Intern

"I used to get all of my baby tees there in 1995." - Shana Ecker, Stylelist Home editor (Getty photo)

"Benetton in the 90s! Big sweaters for everyone... Diesel for a regrettable moment in the early 00s, then realized I looked like a European tourist everywhere I went, so that was shelved. And I used to stock up on tanks at American Apparel in 2004-5, and now the store looks like the wardrobe department for A Different World." - Brie Dyas, Stylelist/Stylelist Home senior editor (Getty photo)

"I used to loooove Limited Too, until I realized that not everything is made better with "LTD2" logos strewn all over it. Also, I grew." - Ellie Krupnick, HuffPost Style Senior Editor (Courtesy photo)

"I thought it was cheap and quick, but it was still a waste of money because everything that I bought there was ruined after the first wash. The hem would become uneven or a tiny hole would appear." -- Renee Jacques, HuffPost Style Intern

"I used to shop at French Connection until I realized that all of the clothes are cut for American Girl Dolls." - Rebecca Adams, HuffPost Style associate editor

"I loved it then, but I haven't set foot in a Wet Seal in over a decade." - Christina Anderson, Senior Editor

"While I don't shop at any of these stores anymore, I always felt like Aeropostale was a wannabe Abercrombie & Fitch or Hollister. The styles never seemed to match up and it came across as tacky most times. However, I do remember liking their bathing suits. Now, not so much." -- Renee Jacques, Style Intern

"I used to go here for basics but there's far too much product on the floor, and its always a mess. I also find that many times, the material they use is of poor quality and falls apart after only a few washes."

In trading on Tuesday, department stores shares were relative laggards, down on the day by about 0.7%. Helping drag down the group were shares of JC Penney (JCP), down about 10.7% and shares of Companhia Brasileira (CBD) down about 2.4% on the day.
Want more? Be sure to check out HuffPost Style on Twitter, Facebook, Tumblr and Pinterest.