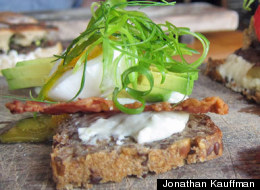 Every month, HuffPost SF joins our friends at Tasting Table to highlight our favorite discoveries from our scouting expeditions around the Bay Area's culinary scene. Here's what caught Tasting Table San Francisco editor Jonathan Kauffman's eye in August.
Ever since taking over as chef of the seven-year-old Bar Tartine, Nick Balla has been awing diners less with his creativity--try to wrap your mind around Hungarian dishes with California produce and Japanese cooking techniques-than with his interest in pickling and preserving. Now, with the opening of Bar Tartine's new lunchtime sandwich shop, you can try many of his experiments, from sprouted-lentil burgers to house-made goat cheese, framed by slices of Chad Robertson's whole-grain breads.

The newest bar from the team behind Bourbon & Branch, Tradition pays homage to classic cocktails of all stripes. The most impressive section of the menu may be bartender Ian Scalzo's reworking of dive-bar drinks: Think Mind Erasers, Frozen Margaritas and Slow Comfortable Screws Up Against the Wall. With great ingredients and not a little bartending skill, Scalzo puts cheap-drunk drinks on the path to righteousness.

This mid-Market coffee shop and deli, owned by Foreign Cinema chefs John Clark and Gayle Pirie, serves Four Barrel coffee and sandwiches containing house-smoked meats. But the sticky buns, baked fresh every day, are what have us coming back for repeat visits. A tight spiral of brioche dough, glazed with caramel, hides away pockets of pecans and cinnamon sugar. It's best warmed in the cafe's toaster oven, then served with a thick stack of napkins.

San Franciscans are notorious in their hatred of chain restaurants. But they should have no problem with the ramen at this Japanese chain, which just opened its second U.S. location, in the Outer Richmond neighborhood. Lean and moody, in black paint and light woods, the shop specializes in the noodle soup of its home region, Tokushima Prefecture. The signature dish, based on a rich, soy-inflected pork-bone broth, contains straight wheat noodles, two kinds of pork, and a raw egg that you stir into the hot broth.

St. Helena's Martini House has undergone a serious renovation, but its new incarnation, Goose & Gander, is as successful as its last. Chef Kelly McCown's food is polished and creative, including such hits as jalapeño poppers stuffed with Cotija cheese, and ricotta gnocchi embellished with cherry tomatoes and a Parmesan crisp. With renowned bartender Scott Beattie behind the bar, cocktails are required drinking.

It's always gratifying, not to mention exciting, when a buzzed-about new restaurant lives up to its pre-opening hype. And Evan and Sara Rich's Hayes Valley bistro does that. Though the cooking of the Coi and Bouley alumni exhibits technical precision, it also conveys a playfulness that exceeds the descriptions on the menu, with dishes such as sardines threaded through potato chips, and blue prawns served on top of creamy tonnato sauce. And Maz Naba's concise, affordable wine list is one of the city's most interesting, straight out of the gate.