Britney Spears' Bikini Body Has Never Looked Better (PHOTOS)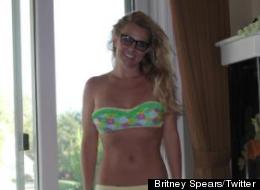 Britney Spears has taken to tweeting pictures of her bikini body recently, and there is a good reason why -- the new "X Factor" judge has not looked this toned and fit since her boa constrictor-writhing "Slave 4 U" days. Spears shared her most recent self-portrait sporting a colorful green two-piece with a curious beachside accessory: glasses. "Having some fun in the sun... don't want summer to be over!" she wrote.
The summer thing seems to be a trend with Brit. Earlier this month, Spears also posted a photo on her Facebook page in a white hot bikini (that Us Weekly claimed to be four years old) with the caption: "Y'all ready for summer to end? I'm definitely not!"
Having some fun in the sun... don't want summer to be over! twitter.com/britneyspears/…

— Britney Spears (@britneyspears) August 31, 2012