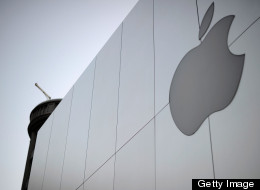 Hello, ladies and gentlemen, and welcome to This Week In Apple Rumors, our regular look back at all of the week's unconfirmed gossip, questionably-sourced reports, and blatant speculation about future Apple products from around the Web! Let's take a look back at what the various Apple blogs and websites were excited about in the past week, from August 26 - September 1. Check out our previous edition of Apple rumors here, and for all the latest you can follow me on Twitter right here.
The iPhone 5. The iPad Mini. A modified iPad. A 13-inch MacBook Pro with Retina Display. A new iPod Touch. A new iPod Nano. Two new iMacs. These are the eight new Apple products, to be unveiled at two separate Apple events, that generally-reliable analyst Ming-Chi Kuo of KGI Securities says to expect by the end of 2012 in a research note from earlier in the week. A couple of those aren't surprising -- if you haven't heard, there's a new iPhone (supposedly pictured at left) coming -- but others, we are less sure about. Let's take a dive into the new information we received about four of these devices.

The next iPhone -- which I'm going to persist in calling the iPhone 5 until Tim Cook tells me not to -- will still almost certainly be introduced on September 12 (remember the mounds of evidence that says it will be). We didn't get much new information this week, but we did get a bunch of high-quality photos of what is apparently a fully-assembled phone from -- where else? -- nowhereelse.fr, the Francophone website that has been leaking a bunch of parts this rumor cycle. At left, you can see one of those photos, which shows the taller, thinner iPhone 5, with the two-tone body and 4.0-inch screen we're all expecting in less than two weeks. I recommend Nowhereelse's photo gallery from this week for some of our best shots at what is likely the next iPhone. Elsewhere -- on sites other than Nowhereelse -- we got some geekier looks at the next iPhone, including this photo, which shows an iPhone 5 with Apple's faster A6 chip inside (this would mean faster performance and multi-tasking, if Apple does upgrade the chip from the current A5 to the A6). 9to5Mac has a whole heap of looks at the next iPhone's innards, for those interested. Otherwise, we're still on schedule, and waiting. This is your two weeks notice: The invitations to the next Apple event should be going out pretty soon, perhaps this week.

This is likely a mock-up, but a new video from the IFA tech conference in Berlin shows an "exclusive iPhone 5." While we don't think it's real, the device on screen does look like much of what we've seen from the past months of leaks -- taller screen, smaller dock connector, headphone jack on the bottom, etc. etc. Amen. (via AppleInsider)

Marco Arment is the creator of the popular iOS/Android app Instapaper, and he was checking his device logs the other day (as one does) and noticed something strange: Two iPads he had never seen before were using his service! Here's Arment: These device models, as reported by the OS, could be faked by a jailbreaker with enough free time. But I've never had a device show up there that didn't end up being a real, about-to-be-released Apple device. Arment thinks the two iPads are the Wi-Fi and 4G models of the upcoming iPad Mini, and takes this as proof that they do exist and that they're coming (and, yes, he does have an iPhone 5 in his logs, too). He's also got some evidence that the iPad Mini will not run a Retina display, but will run the cheaper, iPad 2-ish screen, to lower costs. We're still expecting the iPad Mini -- the name given to a smaller iPad, with a 7.85-inch screen and a sub $300 price tag -- before Christmas, possibly in October.

Ming-Chi Kuo, who correctly predicted the 15-inch Retina MacBook pro before its grand unveiling, thinks that a 13-inch Retina MacBook will be on shelves this September, along with the new iPhone. We also heard this week that those MacBooks are in production (that's per analyst Richard Shim, talking to CNET). This is a rumor that goes a few months back, and it makes sense: The 15-inch Retina MacBook has sold well despite its high price, and Apple has earned a reputation for high-quality screens -- on its iPhone 4, Retina MacBook, and iPad 3 new iPad. Might as well keep adding bricks into the wheelbarrow, as my pops likes to say.

Some were disappointed when Apple didn't refresh its iMac line at the recent WWDC event, but if recent rumors are true, all you iMac enthusiasts might soon be getting your wish. The aforementioned Kuo thinks two new ones are coming: No Retina display for these puppies, which will measure 21.5 inches and 27 inches, but they will come with new Ivy Bridge processors and a "brand new design." We're also seeing shortages in iMacs on the Apple website, which occasionally means that newer models are coming; an unidentified iMac -- possibly one of the new models -- also recently showed up on Geekbench, fueling more speculation of an upcoming refresh. Stay tuned for more on these new iMacs and MacBooks -- we could be seeing some brand new computers from Apple, just in time to be too late to buy them for back-to-school. That's all for This Week In Apple Rumors. Make sure to check back next week for a fresh batch; or, if you can't wait seven days, you can always get up-to-the-minute Apple rumors by following me on Twitter right here.