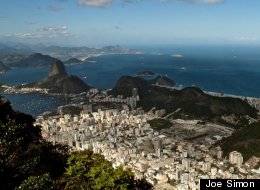 Rio de Janeiro may not be paradise, but through the lens of Joe Simon's Canon 5D Mark III it sure looks like it.
The Brazilian city, which will soon host both the World Cup and the Olympics, may have some petty crime and homelessness issues, but on a sunny day -- when viewed from afar -- it is basically a sexier Eden.
This video, which shows the degree to which the city is defined by the oceanscape and its beaches, highlights the shining white of the city and pretty much displays the chaotic megalopolis as the city it so desperately want to be when the World Cup begins.
Shot from funiculars and touristed hilltops, the video is an ode to a city that is completely perfect if you just squint enough.