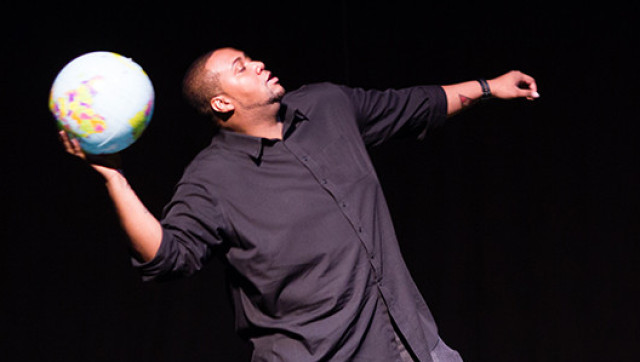 For the past 34 days, water and an occasional glass of juice have been the only source of sustenance for Chicago theater artist Wendell Tucker.
Tucker and his theater company, Theori Stages, recently wrapped a successful six-show run in Chicago and are currently 34 days in to his latest effort -- a 40-day fast and Indiegogo campaign aimed at raising awareness about mental illness in the black community, and $5,000 to take his show on the road.
"We were looking for something that would make an impact," he told The Huffington Post.
On day 33 of what Tucker has called "The Hunger Aims," the importance of his mission became even more apparent.
Yet still, Tucker's show has received a number of negative reactions, including cynical tweets and skeptical critiques.
"We had a few people who just didn't agree," he said. "They felt that, as black men, we didn't suffer from depression or any of that -- that it was just an excuse to be lazy and not take responsibility for our situations in the world."
Tucker pointed to the shocking suicides of Don Cornelius and Junior Seau earlier this year as proof that depression in black men is a cause for concern.
"Now you have Chris Lighty, one of the most brilliant minds in hip-hop," said Tucker. "It's like, whoa, okay this may be real."
Not just real, but common.
AAS statistics also show that African-American men are five times more likely to commit suicide than African-American women. And as a group, African Americans are more likely to experience a mental disorder than their white counterparts and less likely to seek treatment.
"It's amazing that people you would never even expect, they've been depressed, they've also been admitted to inpatient therapy," said Tucker, who called the suicide hotline one fateful night before deciding to go to the emergency room.
Not even Tucker's family knew about his diagnosis until they attended his show one year later.
"There's all these people hurting," he said. "They've been told to pray on it or 'Man up. You can't be depressed. Depression is for white women.' Everything except for 'Okay, maybe you should go get therapy.'"
Earlier this year,Dr. Wizdom Powell Hammond, a UNC Chapel Hill professor and researcher, published the results of a seven-year study showing the benefits of African-American men openly discussing their stress when battling depression and suicidal tendencies.
"We can't tell black men not to express their anger," Hammond said in a recent interview with EBONY.com. "Anger is a legitimate emotion. To not express it when it's an appropriate response is, to me, problematic. We also have to be comfortable with the full range of emotions, to [accept that] anger is not the only response black men have to racism. They feel shame, they feel sad, the feel upset."
"We're going to keep going," Tucker said. "By no means is that going to be the death of it."
RELATED ON HUFFPOST:
9 Ways To Support Someone With Depression
SUBSCRIBE TO & FOLLOW TRUMP'S FIRST 100 DAYS
How will Donald Trump's first 100 days impact YOU? Subscribe, choose the community that you most identify with or want to learn more about and we'll send you the news that matters most once a week throughout Trump's first 100 days in office. Learn more