Appalachian State Upset, USC vs. Alabama Among Memorable College Football Season-Openers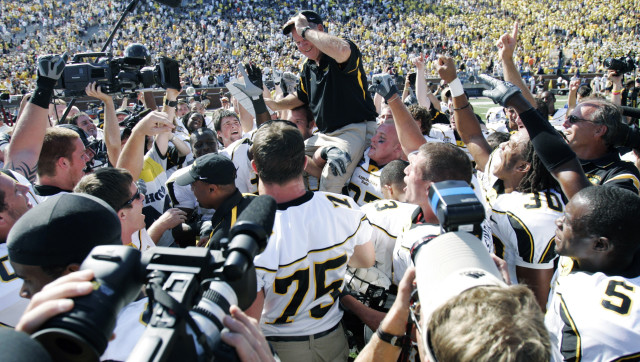 AP
One game can change a season in college football – and it could happen in Game 1.
This season starts with a long weekend of games, kicking off Thursday night and ending Monday night. While the schedule is mostly packed with powerhouse-vs.-pushover tilts, there are some intriguing matchups: Alabama against Michigan, Boise State at Michigan State, South Carolina against Vanderbilt and Georgia Tech facing Virginia Tech.
But as Appalachian State reminded us all a few years back, you never know when a classic is about to break out.
That unforgettable upset makes this Pick 6 of memorable season-openers in college football history.
(All captions via AP)
Unforgettable College Football Season-Openers
Extra point: The Citadel 10, Arkansas 3, Sept. 5, 1992. The Razorbacks' first game as a member of the Southeastern Conference was one of the low points in program history. After losing to the I-AA (now FCS) team from South Carolina at home, Arkansas coach Jack Crowe resigned the next day. On Saturday, Crowe leads Jacksonville State into Fayetteville to take on the 10th-ranked Razorbacks, trying to pull an even bigger upset than the one 20 years ago.