Boise State Cheerleader Trampled BSU, Michigan State Football Players (VIDEO)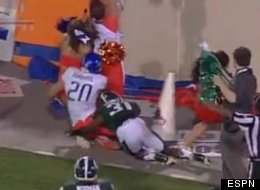 By Jose Martinez, Complex Sports

These last few days of college football action have been memorable ones. First, we had the fail heard 'round the world. Yesterday, Devin Smith of Ohio State made a spectacular one-handed catch against Miami of Ohio. And finally, we have a cheerleader getting ran over by Boise State's Mitch Burroughs. Is it safe to assume that we are right in the swing of things with this 2012 season?
RELATED: 15 Players You've (Probably) Never Heard of To Watch This College Football Season
[via SportsGrid]