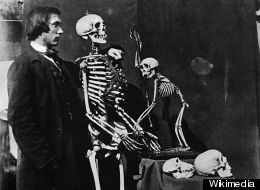 Charlotte Brontë was a grossly underpaid governess before she made it big, and Stephen King was a high school teacher. Douglas Adams was a security guard, Kurt Vonnegut worked at a Saab dealership, and Jack London was an "oyster pirate," whatever that means.
The path to authorial fame is a rough and uncertain one, so scores of literary greats have paid the bills by working strange and interesting day jobs.
Lorrie Moore nods to this process in her short story, "How to Become a Writer," in which the first line reads: "First, try to be something, anything, else."
But some authors find fulfillment and inspiration in their day jobs, so much so that even after striking it rich, they choose to forego a fully-devoted writing career.
In honor of Labor Day, here are 7 writers who kept their day jobs:
7 Authors Who Kept Their Day Jobs
The poet behind "Spring and All" and "Paterson" worked as a doctor in Rutherford, New Jersey during his entire writing career.

The brilliant Argentinian writer behind "Ficciones" worked as an assistant in the Buenos Aires Municipal Library, and eventually because the director of the National Library. Libraries greatly influenced his labyrinthine work. At a late age, Borges lost his eyesight, and has been jokingly referred to as "the blind librarian."

Acclaimed poet Wallace Stevens was offered a professorship at Harvard after receiving the Pulitzer Prize, but turned it down. The reason? He'd have to leave his job at Hartford Accident and Indemnity Company, where he worked for nearly 40 years.

Transtromer won the Nobel Peace Prize for his poetry last year, so you'd think he spent most of his days writing and rewriting. On the contrary: he's worked as a psychologist at correctional facilities, and now is employed by the Swedish government as an occupational psychologist.

The author behind "A Girl in Winter" and "The North Ship" created these works while employed as a librarian at Brynmor Jones Library at the University of Hull.

The mastermind behind "Dracula" kept his prestigious day job as the personal assistant of actor Henry Irving and business manager of the Lyceum Theatre in London for most of his life. However, he may not have had much of a choice - "Dracula" was an epistolary novel, after all.

The author of "Alice's Adventures in Wonderland" and other "literary nonsense," was also a mathematician, photographer and teacher.