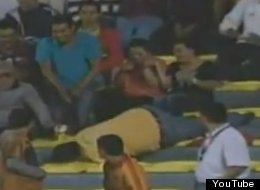 By Dave Kelsey, Awful Announcing
An announcer for a Mexican league soccer match between the Morelia Monarcas and Pumas UNAM gets quite a laugh from a fan face-planting into the seats.
The man was trying to catch a ball that went out of bounds, but alas, things went awry from there. As you can see in the video, some other fans and the announcer; all find this to be quite a hilarious event.
I don't know what the announcer is saying, but it's funny. However, I think the most important question that everyone is wondering... would Joe Buck have giggled and cracked a smile if something like this happened during a MLB game?