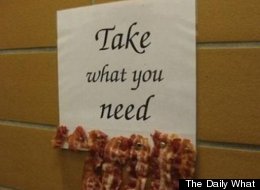 Ah, the classic "tear-one-off" flyer. It's the perfect way to tell people that you've lost your dog, need a roommate, or just have some delicious bacon you want to offer free.
On the Internet, repurposing this useful flyer format to make people laugh is a time-honored tradition. From the classic Lionel Richie "Hello?" poster to the oh-so-meta "Lost: 8 pieces of paper" one, there are plenty of LOL-worthy parodies out there.
We've rounded up 30 of the best to share with you below. Take a look and vote for your favorites (and if we know our readers correctly, the free bacon flyer will undoubtedly be #1).
Funny Tear-Off Tab Flyers
If decapitating paper dolls is your idea of stress relief.

We have a feeling Takei would approve.

Yeah, but what has that dog seen?

For the Facebook junkie on the go.

To be fair, those strips are long gone.

There's really no way for us to tell if anyone was incorrect.

You should be impressed.

Nothing in this flyer is false.

Ron Swanson would be proud.

All those non-tab takers are liars.

So are we looking for a lost flyer or a lost telephone pole?

For when you just need a little encouragement.

One way to deal with overpopulation.

This never gets old.

Hopefully these two meet up.

Almost as good as a "Congrats On The Sex" cake.

Truly, truly tearable.

We suggest keeping a library of Ron Swanson quotes on hand at all times.

We wish people still called cool guys 'cats.'

Sometimes, words just won't do.

All right, nerds.

From Hulk Hogan's signature line of self-esteem boosters.

Why didn't Waldo think of growing a beard in the first place?

"Put me in, coach."

It's always weird to spot a meme IRL.

From the person who has access to a printer but not Wikipedia.

It's really hard to get that handlebar shape just right.

Some people can't just enjoy a show.

In case you ever need a slip of paper to remind what droids you're NOT looking for.

Mmm...