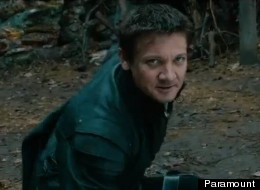 Fairytale movies: So hot right now.
On the heels of two Snow White movies comes "Hansel and Gretel: Witch Hunters," which -- as you can guess -- is about the adventures of Hansel and Gretel, scared children-turned-witch hunters.
Jeremy Renner and Gemma Arterton star as the title siblings, who became hunters after what the IMDb plot summary calls a "traumatic gingerbread-house incident." Armed with an artillery of guns, the two track fight monsters and track down evil witch (Famke Janssen) who is kidnapping children.
"Hansel and Gretel" was initially set for release on March 2 of this year, but Paramount moved the film to Jan. 11, 2013 to reportedly take advantage of Renner's growing star power.
"This should really set up the international," a studio executive told Nikki Finke at Deadline.com at the time of the switch. "Jeremy Renner's international profile should be in great shape after being in 'Mission: Impossible 4' now, then 'The Avengers' in May, then 'The Bourne Legacy' in August."
To that end, "The Avengers" grossed over $1.5 billion worldwide, while "The Bourne Legacy" is closing in on $160 million in global sales.
Watch the trailer for "Hansel and Gretel: Witch Hunters" above.
[via JoBlo.com]
RELATED
The overall tone is familiar, refried, redundant.

"The Bourne Legacy" is a lean, clean killing machine that supplies some dark, late-summer thrills and chills and breathes new life into a seemingly extinct franchise.

"The Bourne Legacy" is always gripping in the moment. The problem is in getting the moments to add up.

Despite its muddled origins, this fourth movie is much more of a bang and less of a whimper than any of us feared, and Jeremy Renner is emerging as the intelligent person's action star.

A tense thriller that builds to a series of climaxes...Gilroy dots the landscape with edgy, tough-minded hand-to-hand encounters that were a hallmark of the first three films.

Structurally, yes, it's loaded with all the lies, schemes and high-tech trickery that are staples of the espionage genre. But a deeper, more individualistic source of tension propels the film along.

The new movie continues the Bourne tradition of exciting, reality-based thrillers, but when the series lost its star it lost most of its soul.

If this is Bourne's legacy, he should amend his will.

...there are excellent performances and a few really first-rate suspense-set pieces...

Gilroy, who as a screenwriter has shaped the movie saga from the beginning, trades the wired rhythms established in the past two episodes by Paul Greengrass for something more realistic and closer to the ground. The change is refreshing.

The Bourne Legacy rebottles much of the chemistry that Damon and Franka Potente shared in the first film, like an us-against-the-world Stockholm syndrome.