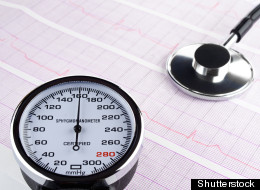 Even though most people with hypertension in the United States are receiving medical attention, more than half of those with the condition don't have it controlled, according to a new government report.
A Centers for Disease Control and Prevention report shows that 67 million adults in the U.S. -- about one in three -- have high blood pressure. However, 36 million don't have their condition under control.
What's more, 22 million of the adults who don't have their hypertension under control already know they have the condition. And 16 million are on blood pressure medications, yet their condition is still uncontrolled, the report showed.
High blood pressure is dangerous because it can lead to heart disease. Being physically inactive, being overweight, consuming too much salt, smoking, being older and or being predisposed to the condition because of family history or race are all risk factors for high blood pressure, according to the Mayo Clinic. Stress, insufficient vitamin D and potassium, and consuming too much alcohol can also affect blood pressure, as can insomnia.
Even though the new CDC data tracks only adults, a recent study in the journal Hypertension showed that kids are increasingly affected by the condition, too. Child hospitalizations for hypertension have doubled within a nearly 10-year period from 12,000 in 1997 to 24,000 in 2006, HuffPost reporter Catherine Pearson reported.
Blood pressure is considered high at 140/90 millimeters of mercury (mm-Hg), or above. For some foods that have been associated with helping people lower blood pressure levels, click through this slideshow:
Foods That Lower Blood Pressure Naturally
Research presented at a meeting last year of the American Heart Association shows that eating three kiwis a day is linked with decreased blood pressure. That study included 188 men and women age 55 and older, with slightly high blood pressure. They were instructed to eat three kiwis a day, or an apple a day for eight weeks. The researchers found that the people who ate the kiwis had lower systolic blood pressure levels than those who ate the apples. Kiwis are known to be rich in lutein, which means they have antioxidant properties. Flickr photo by whologwhy.

A 2005 study in the journal Hypertension found that it's possible to get the blood pressure-lowering effects from potassium-containing foods, instead of just from a potassium supplement. Researchers from St. George's Medical School in London found that people who consumed potassium citrate -- which is found naturally in food -- has the same effects in decreasing blood pressure in people with hypertension as those who took potassium chloride, which is only available as a supplement, Harvard Medical School reported. Flickr photo by robin_24.

Watermelon is not just refreshing, it contains a bounty of nutrients including fiber, lycopenes, vitamin A and potassium, according to the Mother Nature Network. And, a study from Florida State University researchers shows that an amino acid found -- called L-citrulline/L-arginine -- in watermelon could also have blood pressure-lowering effects. The researchers had nine people with prehypertension take 6 grams of the L-citrulline/L-arginine amino acid a day over a six-week period. They found that the study participants had lower blood pressure, as well as better functioning of their arteries. Flickr photo by Gudlyf.

Spuds may get a bad rap in the foodsphere, but a small study presented last year at a meeting of the American Chemical Society showed that the purple-hued root vegetables have blood pressure-lowering powers that are nearly as effective as oatmeal, without packing on pounds. The study included 18 people with high blood pressure. They ate six to eight purple potatoes (including the skins!) twice a day, for a month-long period. The researchers found that the study participants' systolic and diastolic blood pressure dropped at the end of the research period. (Though, it should be noted that this was just an observational study, and the potato-eaters' blood pressure was not compared to people who did not eat purple potatoes during the study.) Flickr photo by Taransa.

Eating a lot of tofu and other soy foods -- like soy nuts, miso, edamame, tempeh and soy milk -- is linked with decreased blood pressure, WebMD reported. The study, presented at the annual meeting of the American College of Cardiology, included 5,000 people whose diets were tracked over 20 years. The researchers found that the ones who consumed the most isoflavones -- found in soy, as well as peanuts and green tea -- had lower systolic blood pressure than those who consumed the fewest isoflavones, according to WebMD. Flickr photo by FotoosVanRobin.

Chocolate is linked with a lower BMI -- and it could be beneficial for people with hypertension. A 2010 review of studies in the journal BMC Medicine showed that flavanols, which are found in chocolate, seemed to promote the dilation of blood vessels, which in turn can lower blood pressure. "Flavanols have been shown to increase the formation of endothelial nitric oxide, which promotes vasodilation and consequently may lower blood pressure," study researcher Dr. Karin Ried, of the University of Adelaide in Austria, said in a statement. "There have, however, been conflicting results as to the real-life effects of eating chocolate. We've found that consumption can significantly, albeit modestly, reduce blood pressure for people with high blood pressure but not for people with normal blood pressure." Flickr photo by Siona Karen.

If you love a little heat with your food, it could be doing your blood pressure a favor, too. A 2010 study in the journal Cell Metabolism showed that capsaicin -- the spicy ingredient in chili peppers -- could help to lower blood pressure in rats with hypertension. However, the researchers from the Third Military Medical University in China noted that the results need to be replicated in humans. Flickr photo by Trostle.