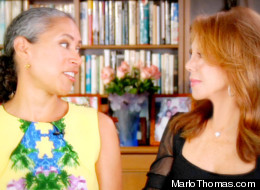 What's the deal with sites like Gilt and Groupon? Do they really offer better prices than traditional stores? Trae Bodge, Senior Writer for The RetailMeNot Insider, gave her expert advice on daily deals when she met with me on Mondays With Marlo.
And if you're looking for more advice on shopping smart, check out Trae's essential tips:
Smart Shopping Tips From Trae Bodge
1. Invisible Hand - This free app will change the way you shop online. As you're browsing, the Invisible Hand pops up on the top of your screen and tells you if you can find the items you're looking for at a better price elsewhere. It's comparison shopping without any of the effort! 2. Red Laser - This mobile app is for iPhone or Droid. If you're in a mall, and there's a Macy's on one end and a Nordstrom on the other, Red Laser will tell you which one is better, so you can hit the store with the better price.

Be really aware of what you need versus what you want. If money is really tight, things you want can go by the wayside. Focus only what you need.

1. Nextag.com 2. PriceGrabber.com 3. RetailMeNot.com If you're doing some price comparison shopping, Nextag.com and PriceGrabber.com are two great sites. Then you can go back to RetailMeNot.com and look for coupons for those sites.

Don't go to the grocery store hungry. Look at the unit price, which is separate from the main price, a little bit to the left. It will say "price per oz.," for instance. This is a great way to shop for meats and cheeses, foods that can get really pricey.

When you're shopping online, never take a price at face value.There are so many online retailers, so you can always find a better price if you do a little digging.

Take advantage of what's in your town. Every town has something, whether it's an event, or fireworks, or something you find in your local paper. Instead of a big dinner out, have a picnic in the park.

Saving money is all about strategy: 1. Make your list, and try to stick to it. 2. Do price comparison with Invisible Hand and Red Laser apps. 3. Go back to RetailMeNot.com to look for coupons.

Although daily deals offer very interesting, experiential things to do, many of them expire in only one month. In certain cases, the company waits for a certain number of subscribers to sign up, and if they don't, you won't get the deal. These deals can also be very addictive, so be picky and choose carefully.

The circulars that you get in the mail aren't always garbage, especially for groceries or stationery. "Lucky Magazine" has a great "daily deal" email, curated based on your own shopping habits.

Cheaper brands like Olay and L'Oreal have been turning out really great products in the last several years to compete with the more expensive brands. Aveeno is another great brand. In terms of cosmetics, the Target brands are a good choice, such as Sonia Kashuk and Rimmel.

The Gap family: Old Navy, Gap, Piperlime, Athleta, and Banana Republic are all combined and they always have great deals. They offer free shipping with any purchase over $50, and it's not hard to get to $50, with all of those companies. Drugstore.com and Beauty.com are like that as well. Land's End also offers great, consistent deals.

Back-to-school is the second-biggest shopping time of the year. When shopping for school supplies, look for a store with a big discount, say 30% off, and buy everything there. A lot of middle schools and high schools are asking that kids get their homework by email, or recommending kids bring a tablet to school. Back-to-school is getting a lot more expensive than it used to be, so you have to be careful and look for those great deals.

It's easier to find deals on hotels than on airfare.You can find savings on lodging at Orbitz.com, Expedia.com, Priceline.com and Hotwire.com. Look for package deals: airlines, hotels, etc. The more things you bundle together, the better price you'll get.

Target is a great store for dorm room essentials. They have fantastic prices, and a great selection of decorative items so you can personalize the room.

Survive unemployment by using coupons, looking at the unit price cost, buying generic items and not eating out. You can also save on your electric bill by making sure appliances aren't plugged in all the time. Even if electronics are not charging, there's a charge going through there if they're plugged in. Cutting back on your water is another cost-saving measure; you don't have to take a half-hour shower.

Eat out less. Fast food is not an answer, given what's happening with obesity in our country. Consider buying generic groceries, instead of name-brands. You can save up to 30% off your grocery bill by doing this.

Look for a secure shopping symbol on the site, "Shop securely with us" or "Secured by..." If it's a smaller, entrepreneurial site, choose PayPal as a payment method, if they offer it.

If you have expensive taste, but you're on a budget, mix high and low-priced items. Buy that Hermes bag, but then buy some pants from Banana Republic. A lot of companies offer great prices for stylish clothes, so mix and match a little bit to find that balance.

Kids of all ages should know about finances. I started teaching my daughter when she was five years old, letting her do a chore and earn an allowance. I gave her the option of picking up another chore, if she'd like to earn more money and I opened a savings account for her. It's important to educate your kids, especially during tough economic times.

1. Find a great concealer in a store with someone there who can help you. Don't do it on your own because you need the color to be exactly right. 2. A great blush is also an essential. Sometimes, there are great gel blushes that can double as a lip stain. 3. Get mascara to lengthen those eyelashes.

The type of coupon savings achieved in the TV show "Extreme Couponing" is fascinating, but it takes a lot of time, which most of us don't have. You have to clip, you have to watch, you have to time it and it takes a lot of effort. Extreme couponing isn't as easy to do online.

Asos.com, an English company, ships overseas for free, and accepts free returns, like Zappos.com. They have great deals on really unique things that you're not going to find anywhere else.

Anyone who comes to your house absolutely needs to be tipped at least three dollars. Taxicabs can calculate a tip for you. Tip your hairdresser, but you don't have to tip the owner of the salon. During the holidays, you should tip anyone who's going above and beyond for you on a daily basis, such as your child's bus driver, the mailman or the UPS delivery person. If there's a tip jar at the local coffee house, you can leave a tip there too.

Look for flash sales on experiential offers for new parents, like "Mommy & Me" on Groupon.com and LivingSocial.com.

Utilize a site like Drugstore.com or Beauty.com to save on health and beauty items. There are great coupons on RetailMeNot.com, and they offer free shipping. Some sites will offer loyalty discounts as well, so if you reorder your favorite conditioner every three months, you can save 10%.
Add Marlo On Facebook:
Follow Marlo on Twitter:

Weekly Newsletter

Sign up to receive my email newsletter each week - It will keep you up-to-date on upcoming articles, Mondays with Marlo guests, videos, and more!

Sign up here