Old Navy will soon be slinking back to the locker room in shame, now that football fans have uncovered an embarrassing error on one of its sports T-shirts.
An NFL-themed T-shirt formerly for sale from the company declares the Houston Texans the "1961 AFC Champions." What's the problem? The Texans didn't win that title. It was the Houston Oilers, now the Tennessee Titans, that won the 1960 and 1961 championships of the American Football League.
In fact, the Houston Texans weren't even an extant team until 2002. Oops!
The Houston Chronicle reports that savvy employees spotted the error and bought some for posterity (and future eBay sales?), even pointing it out to shoppers who tried to purchase the shirt.
It gets worse for Old Navy (and its quality consultant?): there are other football flubs with the new line of tees, too,the Chronicle says. The Cleveland Browns shirt declares the Browns as 1964 AFC champions; the Browns, who now play in the AFC, won the NFL title that year. In addition (and we'll quote because our football knowledge is admittedly subpar): "shirts for the New York Jets and Kansas City Chiefs proclaimed them as NFL champions for the 1968 and 1969 seasons. Both won Super Bowls that year, but they did so as members of the AFL."
A company spokesperson told ESPN that it would be pulling the shirts from the stores. At the time of writing, the shirt seems to have disappeared from Old Navy's website, thought it was still up as late as 8 p.m. Sunday.
The mislabeled tee isn't Old Navy's first football T-shirt fumble. Last year, a series of college football tshirts debuted with a serious grammar mistake.
Scope out the erroneous tee below, and read more over at the Houston Chronicle.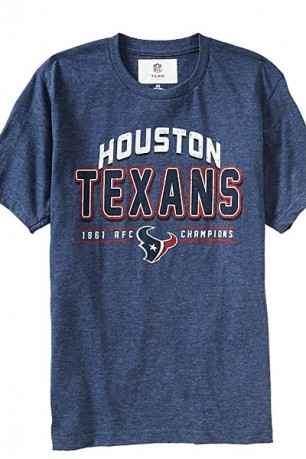 See more controversial products below!
St. Patrick's Day-themed SB Dunk Low "Black and Tan" sneakers by Nike incite outrage from Irish community.

As part of the brand's "Far East" collection, the "Sexy Little Geisha" outfit came complete with a removable obi belt.

"Eat Less" t-shirts aren't well received by, well, most people.

"Truly Madly Deeply Kiss Me" t-shirt offends Irish groups.

Asian caricature t-shirts caused outrage in California.

Some Irish groups aren't pleased with this "Irish Yoga" trucker hat.

Retailer gets in trouble for its "Jewish Star" t-shirt.

"Wink Wink" and "Eye Candy" thongs for 10-year olds isn't a hit with all parents.

"New Mexico, Cleaner than Regular Mexico" t-shirts didn't go over well. (AP photo)

Ditto this "Truly Madly Deeply Irish Drunk" scoop tank.

"Color for the hair down there" is not received well.

"How to catch an illegal immigrant" shirt

"Cuntier" hats spoof Cartier logo.

Jeremy Scott designed these "handcuffs" sneakers for Adidas. However, after many complained that the cuffs looked more like shackles, Adidas canceled its plans to sell the shoes.

Urban Outfitters thought it was a good idea to sell this shirt to its young demographic (with a lot of them being younger than 21).

Skin-lightening wash targets consumers with dark colored privates.
Want more? Be sure to check out HuffPost Style on Twitter, Facebook, Tumblr and Pinterest.