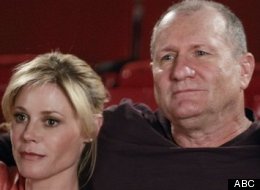 September 21 is the official end of summer, but admit it: Once the Labor Day holiday is over, it feels like a free fall into autumn. Luckily there's a number of books, movies and television shows to keep our minds off the carefree days of summer coming to an end.
Tony Danza chronicles his first year as a teacher in a new book that takes him far from "Who's the Boss" territory. ABC's Emmy-award winning "Modern Family" returns -- we can't wait to see what kind of shenanigans patriarch Ed O'Neill and his oddball family get into this season -- and if he'll win Outstanding Supporting Actor In A Comedy Series at the Emmys on September 23. And the author of Tuesdays with Morrie, Mitch Albom, has a new philosophical tome about a precious resource -- time.

What are you looking forward to this month? Let us know in the comments.
Culture Calendar: September
Author Geoff Tibballs is no stranger to telling jokes about aging. He has penned several laugh-worthy books on the topic, including: "Crazy Sh*t Old People Say," "The Little Book of Senior Jokes," and "Seriously Senior Moments." His newest book, "Unforgettable Senior Jokes," allows readers to get a chuckle out of getting older.

Author of the celebrated novels "Tuesdays with Morrie" and "The Five People You Meet in Heaven," Mitch Albom's lastest "The Time Keeper" tells the story of Father Time, who has been banished to a cave for centuries after inventing the world's first clock. He is eventually set free with a magical hourglass and has a chance to redeem himself by teaching the true meaning of time to a teenage girl, who is about to give up on life, and a rich older man, who wants to live forever.

In 1978, President Jimmy Carter declared Grandparent's Day a national holiday. Now, 34 years later, the holiday has even greater signficance as more grandparents raise their grandchildren.

Tony Danza -- best known for his roles on "Who's The Boss?" and "Taxi" -- chronicles his first year as a high school English teacher at Northeast High in Philadelphia.

The Braverman family is coming back for their fourth season this September. The NBC drama follows the lives of four siblings and their own families, covering a wide array of issues affecting families today: single parenting, balancing work/life commitments, grandparenting and more.

The artist, who recently celebrated the 50th anniversary of his first album, will treat fans to 10 new songs on his latest album (it's the icon's 35th studio release). In the new album "anything goes and you just gotta believe it will make sense," Dylan told Rolling Stone.

Allison Janney is going back to school -- her alma mater Kenyon College to be exact -- in the new film "Liberal Arts." Janney stars as a cougar English professor opposite Josh Radnor ("How I Met Your Mother") and Elizabeth Olsen ("Peace Love and Misunderstanding").

Richard Gere wows in this thriller about a finance big wig caught in a web of lies spurred by -- what else? -- money and sex. Susan Sarandon stars as his wife.

Monte Burke tells the true story of Joe Moglia, a man whose dream of coaching college football took a back seat to providing for his family as CEO of TD Ameritrade. After three decades, Moglia returned to his dream, determined to make it happen.

The iconic 80s singer of "TIme After Time" and "Girls Just Want To Have Fun" delves into her life growing up in Queens, motherhood, activism and her rise to stardom during her 30-year career in this memoir.

Directed by Robert Lorenz, "Trouble With The Curve" is a baseball drama with a star-studded cast. Clint Eastwood plays an aging baseball scout, being edged out of his career due to computer-based scouting and fading eyesight. He hits the road to search for one last player with his estranged daughter played by Amy Adams, who falls for her father's scouting rival (Justin Timberlake).

"I wasn't a fashion editor. I was the one and only fashion editor." We don't just have to take her word for it -- a documentary on fashion icon Diana Vreeland's influence will include interviews with those who knew her, such as Anjelica Huston and Diane von Furstenberg, as well as recordings from Vreeland herself (she passed away in 1989).

Post 50s graced all 16 categories as nominees for the 64th Emmy Awards. Actor Michael J. Fox was nominated in two categories for his work as a guest star on "Curb Your Enthusiasm" and "The Good Wife."

"The Boss" will turn 63 today.

Dennis Quaid and Michael Chiklis star in the new CBS drama based on the true story of Ralph Lamb, the former sheriff of the lawless city in the 1960s. Quaid plays Lamb and Chiklis plays his nemesis, Chicago "mob fixer" Johnny Savino.

Author Alex Witchel recounts her mother's dementia in her latest book. In order to cope with her mother's declining mental health, Witchel takes to the kitchen to recreate her recipes.

The Emmy-winning comedy starring Ed O'Neill returns to ABC this fall.