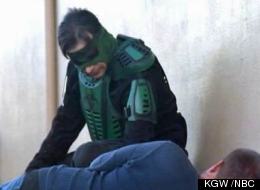 The hungry and lonely homeless people of Salem, Ore., don't need to look up at the sky for a sign of a superhero. They have two masked saviors working right at street level.
For nearly a year, Steve Naylor and Jeff Bronson have been on a mission to help homeless people, while sporting masks and capes, KGW reports. The disguised do-gooders –- "The Rev" and "Hazmat" –- hand out sandwiches, socks and toothbrushes to those in need, but have learned that the homeless often just lack something money can't buy.
"I make eye contact and shake people's hands because when I was homeless, people wouldn't talk to me or look at me for days at a time," Naylor told the news outlet.
But this isn't the first time we've seen costumed characters giving back to their communities.
Volunteers with the Real Life Superhero Movement slip into their alternate identity before visiting the sick and getting involved in public safety patrols, among other benevolent acts.
Eight-year-old Ben Roseth, who suffers from a rare condition that zaps his strength, was so inspired when he met a superhero at the hospital that he and his siblings started their own dress-up movement, HLN reports.
The Minnesota kids became the "Fearsome Four" to pay back the goodwill they received. Ben, AKA "Power Boy," his two brothers and sister have helped their neighbors clean their yards and have donated teddy bears to ill children, the news outlet reports.
"Ben used to cry and scream and fight anytime we went near the local clinic. He would burst into tears at the smell of rubbing alcohol," his mom wrote on his Facebook page. "Power Boy doesn't fear the tests much anymore."
See more real-life hero stories below:
After a bus driver responsible for 15 middle-school children suffered a medical emergency and lost consciousness, Jeremy Wuitschick grabbed control of the steering wheel and guided the vehicle to safety, KOMO News reports. Read the full story here.

When Patricia Drauch found her 14-month-old son, Stanley, floating in the pool in the backyard, her worst fears were relieved, News 8 reports. The family dog, Bear, was balancing the little boy on his back to help keep his head above water. Read the full story here.

When Amanat Singh, 9, and her brother, Abhay Singh, 11, realized the popping sounds they heard outside of their Wisconsin temple belonged to a gun, not fireworks, they quickly raced inside to warn the worshippers, allowing some enough time to take cover, ABC News reports. Read the full story here.

When Cynthia Almendarez's baby nephew was having trouble breathing, the 10-year-old calmly called 911 and translated the dispatcher's life-saving CPR instructions into Spanish so that her mother could save the 2-year-old's life, NBC reports. Read the full story here.

After a car plunged down a 10-foot embankment and flipped over, as many as 10 bystanders jumped into the icy Utah river to help save three children, the Associated Press reports. Read the full story here.