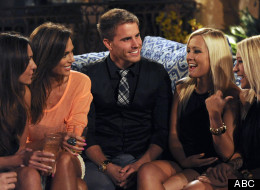 It's been an insane season on "Bachelor Pad" yet again, and 4.4 million of you tuned in to this week's episode leading up to the big finale. Yes, 4.4 million. Even if this isn't a guilty pleasure you indulge in (or admit to indulging in), our hilarious weekly recaps prove that it's one of summer TV's craziest emotional rollercoasters.
The screaming, the fighting, the crying and the cursing ... our exclusive sneak peek of the finale (airs Mon., Sept. 10, 8 p.m. ET on ABC) is a prime example of the drama that's unfolded, and it features a few key cast blow-ups that we can't wait to see play out in the reunion.
So which ladies will clearly never be friends? Who has no shame? And who's "a f---ing shmuck"? Watch the clip above to see, then tell us: Did you get sucked in to this season of "Bachelor Pad"?
The "Bachelor Pad" Season 3 finale airs Mon., Sept. 10, 8 p.m. ET on ABC.
The Bachelors Of 'Bachelor' Past
Season 1: In the first season, bachelor Alex Michel did not propose to the woman he chose. His relationship with Amanda Marsh lasted for several months.

Season 2: Buerge proposed to Helene Eksterowicz on-air. They broke up five weeks after the finale was broadcast. Buerge, who's now settled down with a wife and kids, filled for bankruptcy in 2011.

Season 3: In keeping with season 2, Andrew Firestone, the great-grandson of the founder of The Firestone Tire and Rubber Company, proposed to his lady of choice. However, they broke up a couple of months later. He is now married to actress Ivana Bozilovic.

Season 4: Guiney, who was a contestant on the first season of "The Bachelorette," did not propose during the finale, but offered winner Estella Gardinier a promise ring.

Season 5: This Canadian boy was the first non-American bachelor to be featured on the show. The sports commentator, who previously played in the NFL and CFL, chose to date Jessica Bowlin, but they broke up within a few months.

Season 6: Compared to the previously mentioned "Bachelor" relationships, Byron Velvick and his lady-of-choice Maribel Delgado lasted for quite some time. In 2004 he proposed to her in Spanish so that her parents could understand him. They broke up in 2009.

Season 7: For the first time ever in "Bachelor" history, the final rose ceremony was broadcast live on national television. O'Connell did not propose to Sarah Brice, but instead chose to carry on a non-marital relationship. They broke up and got back together several times.

Season 8, Paris: Travis Stork chose schoolteacher Sarah Stone. Like every other "Bachelor," the relationship did not last. Stork is now known as one of the doctors shelling out advice on the show "The Doctors."

Season 9, Rome: This Italian 'royal' and celebrity animal activist did not propose to the winner he chose. They dated and broke up a year after they filmed the show.

Season 10 One month after the season finale, Andy Baldwin and his fiancée called off their engagement -- not surprisingly --but continued their relationship. They officially broke up in 2007.

Season 11 & 15: In an unprecedented move, Brad Womack rejected both finalists in the season 11 finale. He returned to be "The Bachelor" in season 15 and proposed to his "choice," Emily Maynard. The two were engaged for a short period of time, and very publicly split last year.

Season 12, London Calling: This English financier and business development manager from London chose Shayne Lamas as the winner. They broke up within months.

Season 13: In the season finale, Jason Mesnick called off his engagement with the winner and resumed a relationship with runner-up Molly Malaney. They wed in 2010 and their wedding aired on television.

Season 14: This Texas-born "Bachelor" first got his taste at reality TV on "The Bachelorette." Since "The Bachelor" he's been on some reality shows, including "Dancing with the Stars."

Season 16: Ben Flajnik is still very clear in our minds. Flajnik and Courtney Robertson broke up in February 2012 while their season was still airing. They reconciled and are now engaged. The two of them don't live in the same city, and are currently going back-and-forth about who will move for the other.

Season 17: Sean proposed to Catherine Giudici on the finale of his season in 2013. The couple tied the knot in January 2014 at the Four Seasons Resort Biltmore in Santa Barbara.

Season 19: The most controversial "Bachelor" of all time, Juan, chose Nikki Ferrell during the finale of his show in 2014. Although he didn't say he loved her or propose, they are still together as of summer 2014.