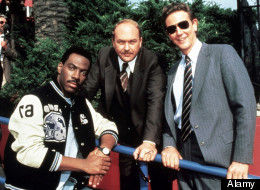 Get ready for your close-up, Beverly Hills! One of the 1980s most iconic LA movies, "Beverly Hills Cop," could be getting a TV reboot.
CBS has committed to a pilot production of "Beverly Hills Cop," produced by Eddie Murphy (naturally) and Shawn Ryan, creator of "The Shield."
The script is a "continuation of the iconic Beverly Hills Cop universe," reports Vulture. But instead of old hero Axel Foley, the series will focus on his son, Aaron Foley. According to Vulture's sources, Foley Junior will "take down the criminal elements of the rich and famous, while simultaneously trying to escape the shadow of his larger than life father."
This got us wondering: if Aaron Foley wanted to escape the shadow of the Beverly Hills Cop, why work in Beverly Hills? But we digress.
Ryan has confirmed to HitFix TV reporter Alan Sepinwall that Murphy will reprise his role as Axel Foley, and that Los Angeles itself will be another major player in the pilot. Ryan also hints that improv could be part of the show:
Eddie is very excited about this and pumped to play Axel again. Perhaps the most exciting aspect for me is to do something more comedic than I've done before. We'll be doing a mixture of scripted and improvisational comedy that I don't think (to my knowledge) has been done in the 1-hour drama universe before. Also, in an era where most new shows are being shipped out of Los Angeles, we'll get to film this here, which will bring me closer to production after a run of shows ("Terriers," "Chicago Code," "Last Resort") that have all filmed out of town.
SNL's Jay Pharoah could be a natural fit for the role of Aaron Foley (check out his spot-on Eddie Murphy impression below), but there are some other actors we think could also be a perfect fit. Vote for your favorite!
WARNING: Video language is NSFW.
Who Should Play Alex Foley On "Beverly Hills Cop"?
SNL's Jay Pharoah is being touted as a natural fit for the role of Aaron Foley because of his spot-on Eddie Murphy impersonation.

Keegan-Michael Key, half of Comedy Central's duo "Key & Peele," has played cops before. Here he is in a Mad TV sketch, playing an officer who falls in love with a woman looking for her son. But our favorite Key character is Luther, President Obama's anger translator on "Key & Peele."

Hear us out on this one. Long before he was Mr. Mariah Carey and the host of "America's Got Talent," he was known as a comedic actor (he was also a singer, but let's not go into that). Here he is making fun of himself by comparing Carey to a pimp.

Donald Glover is best known for his role on NBC's "Community." The stand-up comedian also recently released a rap song under the name "Childish Gambino, featuring none other than Tina Fey. We're just waiting for the music video.

Small screen star Michael B. Jordan definitely has the dramatic chops to pull off part of "Beverly Hills Cop." He made us cry as Wallace in "The Wire," made our hearts swell with pride as Vince in "Friday Night Lights" and made us swoon as Alex in "Parenthood." The only question is whether this guy can carry a comedy.