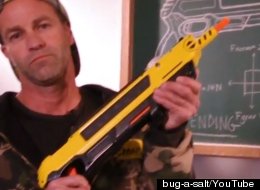 The housefly has met its match: table salt, shot out of a fake assault rifle.
That's the gimmick behind the Bug-A-Salt, an "insect eradication device" dreamed up by a Santa Monica, Calif., artist who aims to start selling the bug-blaster in September. Lorenzo Maggiore took to the pages of Indiegogo to raise a modest $15,000 to make and market his salt-shooting fly-smasher and has so far taken in an astonishing $420,246.
Maggiore touts the gun's eco-friendliness -- no pesky insecticides are required. There are still dangers, however. The Bug-A-Salt website's FAQ cautions "do not shoot anyone in face."
Watch the above video for hilarious slow-motion bug-killing scenes involving cheese puffs and green Jell-O. Bill Weir at ABC News also graphically demonstrated what happens when he used the rifle to shoot store-bought crickets in this video (mildly gross bug splatter). You also can use the Bug-A-Salt to season a pretzel.
The gun, which just takes just a pinch of salt for ammo, costs $30. Rolling up a copy of the J.Crew catalogue and putting your elbow into it: still free.
Also On HuffPost:
Crazy Things Rich People Do With Their Money
The super-rich enjoy having money at their finger tips. NBA star DeShawn Stevenson didn't like the idea of having to find an ATM machine to withdraw cash, so he put one in his kitchen.

Some super-rich households bypass the long waiting room lines at hospitals by constructing emergency rooms -- costing over $1 million -- in their own homes.

No place is off-limits to the super-rich. Billionaire film director James Cameron bought a single-person submarine to venture seven miles below sea level to the deepest part in the ocean.

Some super-rich bank clients pay for therapists to help them deal with the psychological issues associated with having lots of money.

Super-rich buyers plan to survive the world's end in luxury condos built in a Cold War-era missile shaft below a Kansas prairie.

The super-rich spend on ways to protect themselves and their stuff. China's Leison Global made a briefcase that turns into a ballistic shield. It's meant to safeguard rich businessmen and women.

Rich people seem to hate lines, including the long security ques at airports. Like many wealthy people who have their own private jet, Russian billionaire Alisher Usmanov also bought one. But his is an AirBus A340, the largest one in Russia and quite possibly the whole of Europe.

The super-rich can throw away money -- quite literally. Pavel Durov, the millionaire owner of the popular Russian social networking site VKontakte, tossed 5,000 ruble notes folded into paper planes out of his office window onto a crowd in St. Petersburg.