We understand -- and truly appreciate -- women's magazines' efforts to boost our self-esteem. In the October 2012 issue of Lucky, writer Sarah Miller chats with Christina Aguilera about her fashion sense and her changing body, establishing that Aguilera, who's endured endless criticism about her figure, is confident as ever.
"Actually, the challenge I've always had is being too thin, so I love that now I have a booty, and obviously I love showing my cleavage," she tells Lucky. (Check out pics of the pop star circa 2001-2003 -- she isn't kidding about the "too thin" thing.) Now she's proud of her curves, affirming, "Hey, if you can work it and you can own it, that confidence is going to shine through."
And "The Voice" judge doesn't just talk the talk. She left her size-zero past long ago but still embraces boldly figure-hugging styles and makes no apologies for her loud fashion sense. (Seriously, who else would be brave enough to go pantsless in fishnets and a tiara on national TV?) And we love her for it.
Unfortunately, it doesn't seem like Lucky loves her as much as we do. In the cover pic, sporting trendy double denim, Christina seems to have lost an inch or two off her waistline... and more egregiously, she also appears to have gotten a vertiginous facelift. Whose eyebrows do that in real life?
It wouldn't be the first time Aguilera's undergone some heavy airbrushing. Last year critics mused that Christina's W magazine cover was Photoshopped and a newly-released promo shot for season 3 of "The Voice" also looks a wee bit doctored.
How Photoshopped is Christina this time around? Check out the latest Lucky cover and decide for yourself. Also be sure to click over to LuckyMag.com to read the entire interview!
PHOTOS: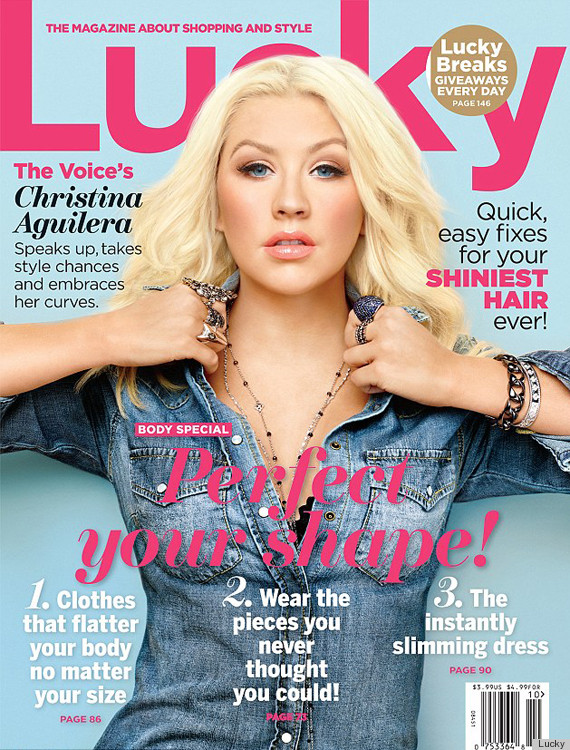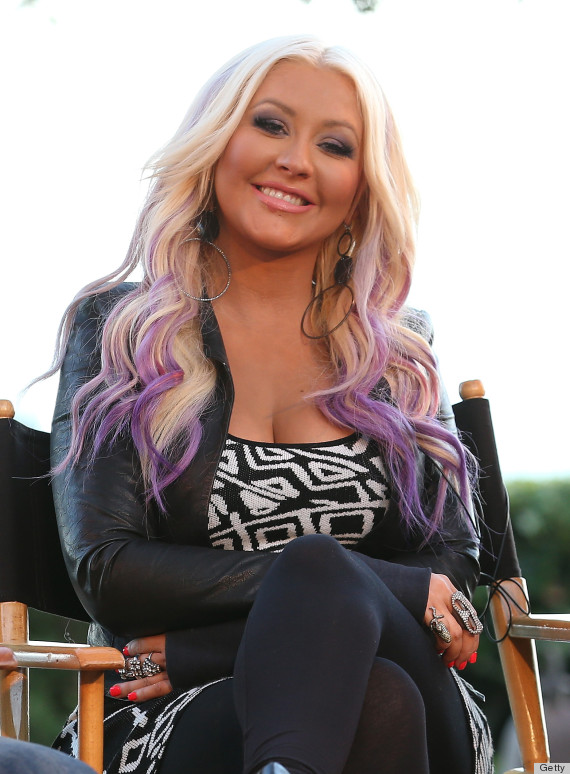 How has Christina's style changed?

Loading Slideshow
September 1998

Getty

September 1999

FilmMagic

November 1999

WireImage

December 1999

Getty

February 2000

Getty

April 2000

AFP

September 2000

Getty

November 2000

AFP

February 2001

Getty

April 2001

Getty

May 2001

Getty

June 2001

Getty

September 2001

WireImage

February 2002

WireImage

August 2002

WireImage

November 2002

Getty

April 2003

Getty

May 2003

WireImage

August 2003

WireImage

February 2004

Getty

March 2004

Getty

June 2004

Getty

July 2005

FilmMagic

February 2006

WireImage

September 2006

Getty

January 2007

Getty

February 2007

Getty

September 2008

WireImage

November 2009

WireImage

December 2009

WireImage

January 2010

Getty

June 2010

Getty

September 2010

Getty

November 2010

Getty

December 2010

Getty

January 2011

Getty

May 2011

Getty

July 2011

Getty

October 2011

Getty

November 2011

Getty

January 2012

(Getty photo)

January 2012

(Getty photo)

March 2012

(Getty photo)

April 2012

(Getty photo)
Want more? Be sure to check out HuffPost Style on Twitter, Facebook, Tumblr and Pinterest.