So, you've taken the plunge: you're planning a dinner party. Congratulations!
But then the anxiety sets in. Will everyone like the food? Will you finish making it on time? And before you even get to the food, what on earth do you do with the table? Trust us, it doesn't have to be set impeccably -- but you probably want to impress your guests, and not forget to give them a soup spoon when it's time for the tomato bisque.
To ease your nerves a little, we've found this handy table setting diagram (this way you don't have to go through etiquette training like Vivian in "Pretty Woman"). There are two different options to choose from: a casual dinner and a formal dinner.
So get going! Set that table and forget all about it while you throw the best dinner party ever.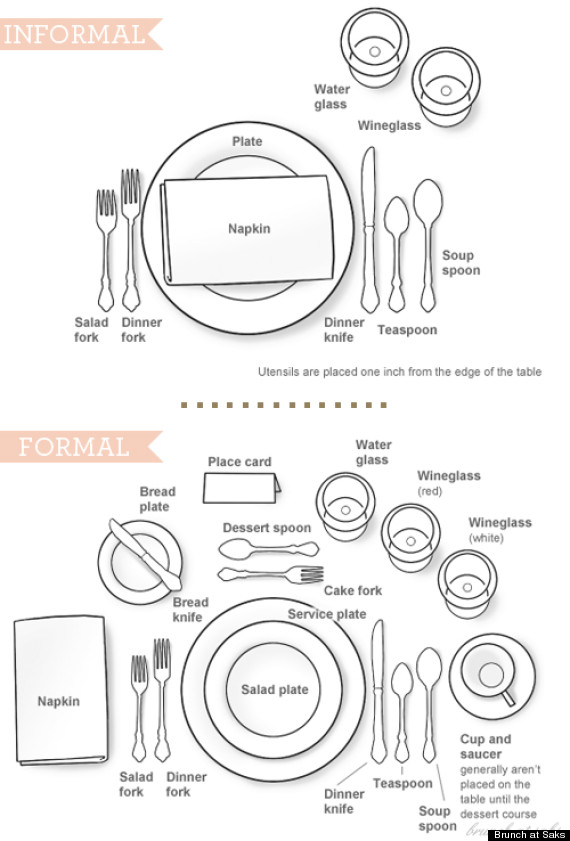 Diagram from Brunch at Saks.
Previously on HuffPost: 4 Dinner Menus for Every Cook
4 Dinner Menus For Every Cook
Serving a meal family style is a great way to create a more welcoming and intimate environment. When everyone serves themselves from the same plate, we feel like we are family. But that does not mean that the food should be subpar. Delicious, succulent meals can be put together and served this way. SEE NEXT SLIDES FOR RECIPES.

Get the Caramelized Onion & Cheese Squares recipe These savory tart squares are made with slow-cooked caramelized onions, drawing out their natural sweetness. Add pungent blue cheese and tangy goat cheese and you have got one richly flavored appetizer. Cabernets pair very nicely with blue cheese dishes such as this.

Get the Peppered Tri-Tip Roast recipe This lesser-known cut of meat is worth seeking out. It is robust in flavor, and almost guaranteed to be juicy and tender (so long as you don't overcook it!). Serve it sliced, and garnished with your favorite topping -- the Argentinian Chimichurri makes a nice pairing.

Get the Crispy Roasted Potatoes with Thyme and Garlic recipe Roasted potatoes are a simple side dish, but they never disappoint. Regardless of how many times people have eaten this side, they will always be happy to see it on the table and will often times go back for seconds. And really, how can you go wrong with thyme-garlic potatoes to accompany a peppered roast?

Get the Apple Bread Pudding recipe Bread pudding is one of those desserts where the effort is far exceeded by the mouth-watering results. This autumn version uses the additional sweetness of apples, which are a plenty this time of year.

While many of us dream of taking trips to foreign lands, not all of us have the opportunity to do so. But sometimes it is nice to just get away -- and you don't have to go further than your kitchen to do so. Take your guest on a journey through the east with this exotic dinner menu. SEE NEXT SLIDES FOR RECIPES.

Get the Roasted Red Pepper and Walnut Dip recipe A take on the classic Syrian red-pepper dip, muhammarra, this smooth and spicy dish is a great teaser for an eastern-spiced meal to come. Serve alongside a generous amount of toasted pita chips -- they tend to go fast!

Get the Lamb Simmered in Chermoula, Honey and Saffron recipe A lamb that is slow roasted for 7-8 hours is sure to be tender, and this one definitely is. And while it sounds like a lot of time to be spending in the kitchen, once prepped and in the oven, the dish essentially takes care of itself (besides the occasional basting). After you taste the succulent meat, you will be assured that it was well worth the effort.

Get the Grilled Onion Couscous recipe Couscous is a great grain to serve alongside the slow-roasted lamb. Its small size allows it to soak up the juices of the lamb easily, making sure that none of that potent flavor goes to waste.

Get the Poached Pears with Prunes recipe Pears are simply delicious this time of year. And this recipe highlights their flavors well. It is adapted from one of Morocco's most ambitious chef's, Fatima Mountassamin, and is strongly spiced with bay leaves and cloves.

If you have got a dinner party planned for Saturday night, it means you have got all day to prepare your seamless, elegant dinner. And if you have people coming over that you would like to pamper (or just impress) with a good meal, than this is the menu for you. SEE NEXT SLIDES FOR RECIPES.

Get the Scallops with Potato Pancakes and Caviar Sauce recipe This appetizer makes the perfect introduction for an elegant meal. A golden seared scallop, atop of a mini potato pancake and drizzled with a Champagne and caviar sauce -- it is the definition of decadence.

Get the Rack of Lamb with Mustard-Shallot Sauce recipe Not only is a rack of lamb a delicious entree, but it also makes for a nice plate presentation -- which is something to keep in mind if you want to take your dinner party up a notch.

Get the Lemony Quinoa Salad with Shaved Vegetables recipe Quinoa pairs wonderfully with lamb, and makes a great, light side dish. The lemony flavor will add a fresh, lively element to the meal and the shaved vegetables atop add to the overall presentation.

Get the Chocolate-Hazelnut Trifle recipe The trifle has a long history at the dinner table, and it has seen many variations. This one calls on the stellar combination of chocolate and hazelnut; and when you add pound cake to that, you know you have a dessert that will win everyone over. The best part about it is, while it looks fairly impressive, it is a cinch to put together.

While many of us mourn the end of summer's bounty, we should really just be embracing what the cooler months can bring. With an array of leafy greens and sweet winter squash now available, there are a number of exciting recipes to explore. SEE NEXT SLIDES FOR RECIPES.

Get the Cabbage-and-Mushroom Toasts recipe Topped with browned porcini mushrooms and cabbage, these hearty toasts make a great start to a winter vegetarian meal.

Get the Squash And Leek Lasagna recipe Squash is a very versatile winter fruit. Roasted or pureed, it is delightfully sweet. It also makes a great substitute to the more traditional meat filling in this Italian favorite.

Get the Braised Swiss Chard recipe Swiss chard is a wonderful complement to the squash in the lasagna. And it also is a delicious way to get more greens into your menu. If you are coming across more kale than chard this time of year, you can easily swap it in the recipe.

Get the Lemon-Curd Cakes with Poppy Seeds recipe The fresh flavor blast of lemon is a great note to end a meal on. And this particular presentation is a fun take on the beloved lemon poppy seed muffin.