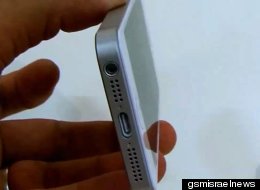 The only thing known about the iPhone 5, is that it will probably be announced at an event on Sept. 12.
But just because we don't know anything for sure, doesn't mean we can't speculate.
Will it have a bigger screen? NFC capability? 4G LTE connectivity? Will it blend?
It'll be a week until we know for certain, but until then, here are some of the iPhone 5 rumors that are garnering attention.
Photos leaked to UbreakiFix.com last month show that the next iPhone may have a significantly bigger screen. According to MacRumors, the diagonal measurement of the screen could increase by about 14 percent, from 3.5 inches to 4 inches. As HuffPost's Jason Gilbert points out, this would mark first time Apple has increased the size of the iPhone's screen.

The new iPhone is expected to support 4G LTE connectivity, according to an August article in The Korea Times. It wouldn't be surprising given that 4G LTE is becoming the standard for newly released smartphones. Additionally, the new iPad has been equipped with 4G LTE technology since it came out in March.

According to a July report from Reuters, the headphone jack on the new iPhone will move from the top of the phone to the bottom.

In July, Reuters reported that Apple is ditching the iconic 30-pin doc connector that we've come to know since it first debuted with the third generation iPod nearly 10 years ago. It's being replaced with a a 19-pin connector port that may appear next to the speakers, microphone and newly moved headphone jack. The bad news is that your 10 years of accessories won't be compatible with the new iPhone without an adaptor, and at this point, it's unclear whether or not Apple will include it with the phone or it'll have to be purchased separately.

Maybe we'll get back to the days when we only worried about cracking the screen on our iPhones. 9to5Mac reported in May that the rear casing of the iPhone 5 could be made of metal, replacing the breakable glass on the iPhone 4 and iPhone 4s. Click over to 9to5Mac to see photos of what could be the new body. Pictured is a screen shot from a video that's purported to show an actual iPhone 5.

A bigger screen, more powerful processor and 4G LTE connectivity will suck battery life, leading some to think the iPhone 5 will get a bigger battery. iResQ, an Kansas computer repair shop, published photos this week of what it says is the battery for the new iPhone. According to iResQ, the new battery is about half an inch taller than the iPhone 4S battery. Click over to iResQ for more specs and to see side-by-side photos of the batteries.