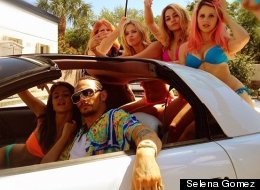 "Spring Breakers" premiered at the Venice Film Festival on Wednesday, and -- based on the early reviews -- the Harmony Korine film seems like a must-watch for James Franco completists. Unless you don't want to see Franco, playing a character inspired by Lil Wayne and Riff Raff, singing Britney Spears while Vanessa Hudgens seductively waves a machine gun.
The film, about a quartet of women roped into helping a drug dealer named Alien (Franco) during spring break, seems destined for "minor cult status" wrote THR critic David Rooney. In his review, Rooney describes the crazy-pants Franco-sings-Spears scene as such:
At one point he sits poolside at a cheesy white grand piano and sings a Britney Spears ballad while three co-eds in DTF pants and pink ski masks do an impromptu dance routine with AK-47s.
Per Guy Lodge, writing about "Spring Breakers" in Variety, the song in question is "Everytime," Spears' 2004 single reportedly about her break-up with Justin Timberlake.
"Every time I try to fly / I fall without my wings / I feel so small / I guess I need you baby," Spears sings on the mournful track.
In addition to Franco and Hudgens, "Spring Breakers" stars Selena Gomez, but the actress's fans shouldn't expect something like "Wizards of Waverly Place." In a review for Indiewire's blog The Playlist, writer Oliver Lyttelton compared the film to last year's moody and violent artsploitation drama "Drive."
"I did things I didn't even know I could do on the movie and I do think it was because I trusted Harmony," Gomez said after the premiere in Venice. The singer and actress is currently dating pop superstar Justin Bieber.
"I just didn't think I was ready for [racy roles in the past], and I do think that Faith is right for me at this time in my career and in my life," she said of her character, the most wholesome girl in the foursome. "Of course eventually I'm going to kind of work my way up to that I think."
For more on the first reaction to "Spring Breakers," head over to Indiewire. The film -- which screens at this year's Toronto International Film Festival as well -- was recently picked up for U.S. distribution by Megan Ellison's Annapurna Films. Expect to see it in theaters in the near future.
RELATED:
Toronto International Film Festival Big Questions
Is Ben Affleck's third film the Best Picture contender many at the Telluride Film Festival claimed, or just a tightly wound and crowd-pleasing Hollywood thriller?

Will Paul Thomas Anderson's highly anticipated "The Master" be too weird for Academy Awards voters, or is it the Best Picture front-runner?

Is "Hyde Park on Hudson," with Bill Murray playing Franklin Delano Roosevelt, the next "My Week With Marilyn"? (A high-minded bit of awards bait more notable for its lead performance than actual quality.)

Will TIFF audiences embrace Rian Johnson's twisty sci-fi thriller in the same way that they did "Drive" last year?

Does David O. Russell's drama-comedy thread the needle between Oscar bona fides and populist entertainment in the same manner that his last film, "The Fighter," did?

Is "Anna Karenina" the classic novel adaptation that finally gets director Joe Wright ("Pride and Prejudice" and "Atonement") over the Oscar hump?

Have the Wachowskis and Tom Tykwer created an incredible, sure-fire Best Picture contender or the next Hollywood cautionary tale?

Is Noah Baumbach's secret film (co-written and starring Greta Gerwig) as good as the early buzz indicates, and will whatever studio acquires "Frances Ha" release it during awards season?

Will "The Impossible" be the Best Picture dark horse of the season or just the latest in a long line of disaster porn?

Will this French import give Marion Cotillard her second Best Actress trophy in five years?

While Harvey Weinstein is on record as saying Oscars aren't the first thing on his mind with regards to "The Sapphires," the question needs to be asked: Is the Australian import the next out-of-nowhere Oscar contender?

Has Terrence Malick actually made a bad movie?