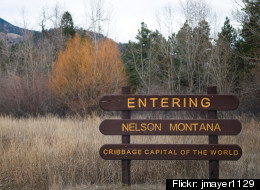 Washington D.C. is frequently discussed with scorn by the career politicians who spend most of the year in Georgetown brownstones. This is what America's capital city has received in exchange for its service, a heaping helpful of disdain and a reputation as the ultimate corrupting force. But Washington isn't the only U.S. capital that can't seem to get any respect, there are a number of "Capitals of the World" within our borders that labor in such obscurity that pols don't even bother to badmouth them.
Cedar Springs, Michigan is a prime example of a capital city that has never seen the limelight. "The Red Flannel Capital of the World" is the absolute center of red flannel industry and culture, but it is too rarely visited by the buffalo-checked indie rockers who served as its ambassadors during the nineties. Likewise Mount Horeb, Wisconsin, "The Troll Capital of the World," is unknown even to many Troll-Americans despite its numerous monuments to Scandivian myth.
Visiting these capitals -- in all seriousness -- offers travelers the chance to engage with the regional traditions, peculiarities and industries define the identities of many smaller towns. Beaver, Oklahoma got its title as "Cow Chip Throwing Capital of the World" thanks to a local affinity for dried bovine feces just as Sheboygan, Wisconsin was granted the crown as the "Bratwurst Capital of the World" thanks to a local craze and Battle Creek, Michigan become "Cereal Capital of the World" courtesy of the Kellogg corporation.
Because self-declared (and in some cases legally recognized) world capitals have proliferated in America, it can be hard to choose which ones to visit. Here are our top 10 America "World Capitals" for travelers and tips on how to enjoy their innumerable and frequently bizarre offerings.
America's "World Capitals"
Venice, Florida -- the world's third most famous Venice -- got its name after locals noticed the bizarrely high numbers of fossilized sharks teeth washing up on its beaches. Naturally, the city has a Sharks Tooth Festival at which visitors can be heard remarking, "Look, those are shark teeth."

Hadley, Massachusetts is a restive town in the Pioneer Valley that happens to have an ideal climate for growing asparagus. Hadley grows a lot of asparagus.

Le Mars, Iowa was officially designated as the world's ice creamiest capital in 1994 by the Iowa State Legislature, which apparently has the power to do that. The town has been known for its ice cream for nearly a century, since Fred H. Wells Jr. founded the Blue Bunny ice cream company there in 1913. Easily accessible from bustling Sioux City, Le Mars now produces ice cream for Häagen-Dazs, Baskin-Robbins and General Mills at the massive "South Ice Cream Plant." And yes, there is a museum.

Bardstown, Kentucky has more than its remotely fair share of whiskey distilleries, including the Maker's Mark Distillery, the Willett Distillery, Barton 1792 Distiller and the Heaven Hill Distilleries. As if that wasn't enough, the town is also home to Jim Beam's American Outpost and the annual host of the Kentucky Bourbon festival. All this booze would mark it hard to argue with the town's title if it weren't for the fact that it doesn't actually sit in Bourbon County, which gives the liquor its name.

Albuquerque hosts the annual International Balloon Fiesta, which means it now has more to brag about than native son Neil Patrick Harris. The festival fills the sky over the city every October, giving the locals the chance to stand in the shade for a change.

Cordele, Georgia is at its most active during the summer when the watermelon crop comes in before being sent out across America in truck after truck. Because agriculture represents the town's biggest business and watermelons represent its largest crop economically and physically, the local mascot is a legged melon in overalls and work boots. There have been some concerns about Cordele losing its title, it has managed to retain its bragging rights despite challenges.

Travelers can smell Gilroy, California before they arrive downtown, where a massive clove pays tribute the foundation of the local economy. Not far south of Santa Cruz, Gilroy has actually become a popular destination for garlic-lovers, who flock to its annual festival to buy garlic ice cream cones they will subsequently throw out.

Squatting on the edge of Alaska's Revillagigedo Island, Ketchikan has a lot more to recommend it than its salmon haul, which is admittedly significant. Visitors will find a charming downtown and ample opportunity to get outside. Nearby Tongass National Forest is a particularly lovely piece of land for outdoorspeople confident in their ability to avoid getting eaten by bears.

Bonneville, Utah is always on television thanks to the car ads perpetually being filmed on its famed salt flats, where racers have been trying to set land speed records since 1907. A strange geological phenomenon has begat a strange sociological one as men come here to test their mettle against friction and wind resistance.

Havre de Grace, Maryland has long been the epicenter of the Chesapeake regions duck decoy carving tradition thanks to its dense population of "carvers" and continued war on the Anatidae family of birds. Visiting hunters and credulous waterfowl will enjoy the Decoy Museum.